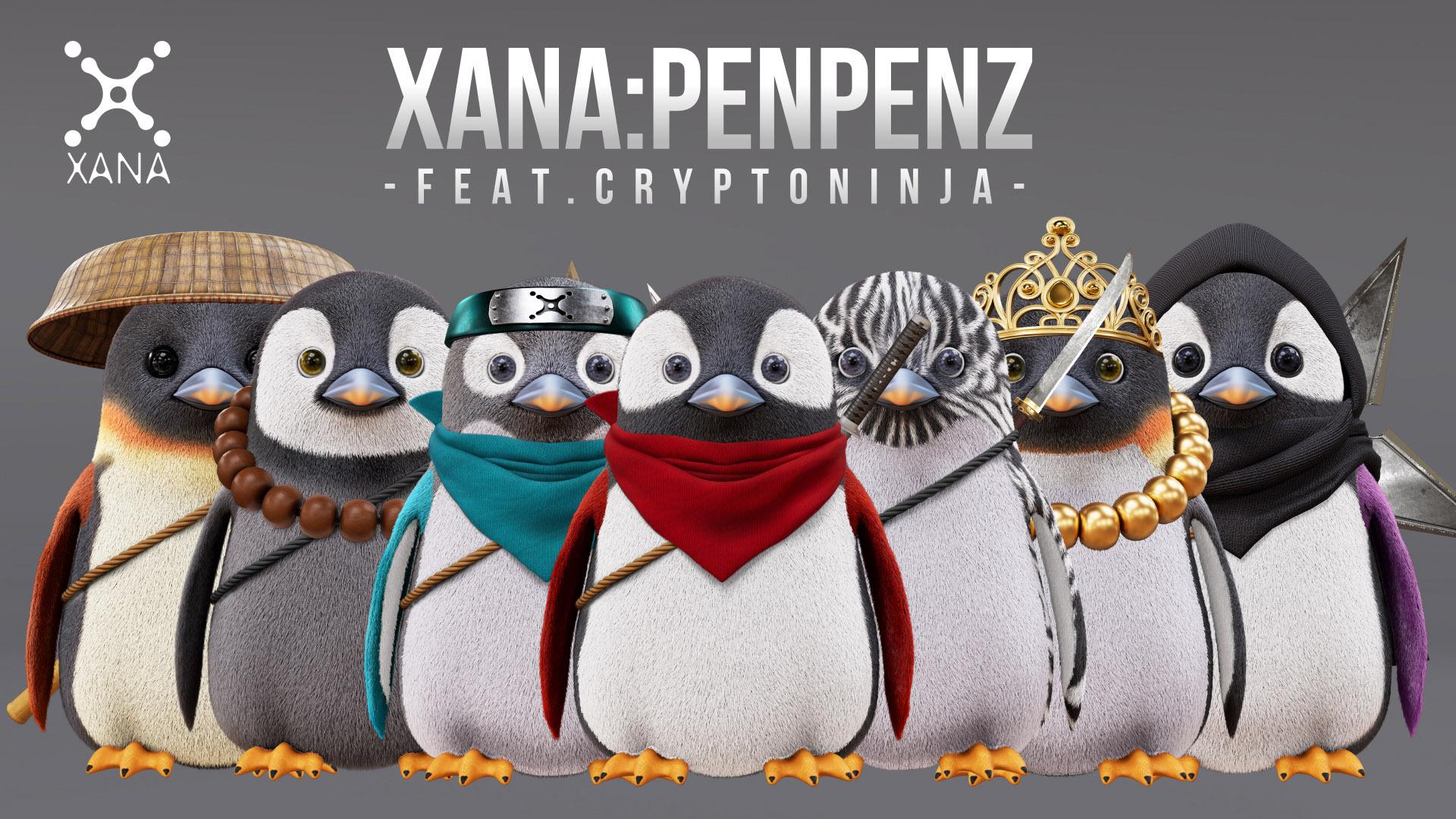 XANA, a Web 3.0 metaverse project developed by NOBORDERz (CEO Rio Takeshi Kubo), in collaboration with CryptoNinja, the largest DAO community in Japan, has released XANA: PENPENZ x CryptoNinja, a generative NFT collection incorporating elements of CryptoNinja in the XANA character PENPENZ. It was released in its free distribution format, reaching its unit price of over 1.7 ETH in just a few days. The current market capitalization is 11,700 ETH (approx. $18 million), making it the largest free mint NFT project ever in Japan and a huge success.
XANA made this free mint collection "Egg" (a way to get NFTs for free) on February 25, and 4,000 unique penguins hatched from the eggs on February 28. Simultaneously, the price soared high to a maximum of 1.7 ETH (about 3000 USD), making it one of the most successful free-minded NFTs in the entire global market.
This project is not just a PFP (photo for profile). Rather, it will evolve into a "pet that can live with you in the metaverse" as a unique utility of the XANA metaverse, which has already been introduced by local governments, large corporations, and top artists in many countries.
Last month, XANA and Tottori Prefecture Governor Hirai announced the launch of Japan's first-ever Metaverse Division and assigned an AI avatar staff member who also introduced XANA's AI to the prefecture. XANA is leading the market in the Web 3.0 era and has become a synonym for "Metaverse x AI". XANA has been featured in all major TV stations and newspapers in Japan. XANA's AI engine has been optimized specifically for the metaverse era and will be incorporated into PENPENZ.
In February, we collaborated with the world's largest cryptocurrency exchanges, including KuCoin, OKX, Gate.io, and Bitget, to co-promote this collection, and the introductory tweet was viewed over 1.5 million times, retweeted 150,000 times, and liked 140,000 times. The collection had attracted a lot of attention even before the launch, and the potential for this collection was very high. It has met the high expectations of the public.
https://twitter.com/XANAMetaverse/status/1620017207538483200
In addition, the resale rate of the buyers who obtained the NFT for free was just 0.5%, proving that 99.5% of the owners are willing to keep the NFT even at this price and that the price is expected to increase. These figures clearly indicate the high expectations for the "Metaverse x AI" brought by this project.
【XANA: PENPENZ Collection page】
https://opensea.io/collection/xana-penpenz-cryptoninja