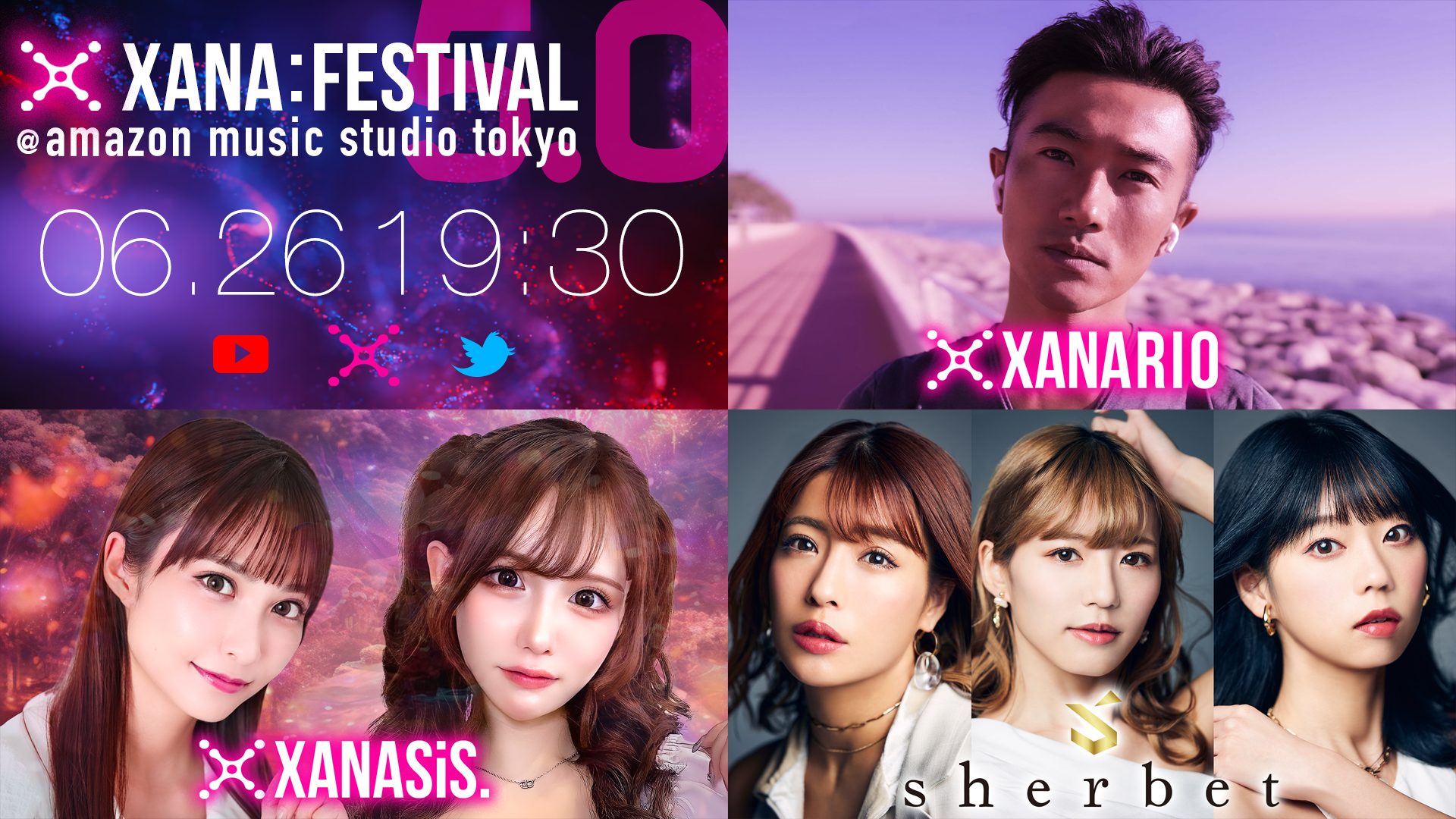 Event Contents
XANA: Festival 4.0, the groundbreaking real x metaverse event that rocked Amazon Music Studio Tokyo in May, was a smashing hit with its star-studded lineup of guests, including BreakingDown CEO and Head of Amazon Music Studio Tokyo.
But that was just the beginning. The event is coming back at Amazon Music Studio Tokyo, and the next one, 5.0, is happening on June 26th.
You don't want to miss this one, because it will feature the debut live performance of a new group produced by XANA, as well as some amazing special guests that will blow your mind.
The metaverse music event is a game-changer for the music industry, as it offers a new level of immersion and interaction to billions of music fans around the world and drives the mass adoption of XANA. This is the ultimate next-generation event that you've never seen before, and it will keep getting bigger and better every month with new surprises and innovations.
Event Details
Event Name: XANA Festival 5.0
Event Date: Jun 26, 2023, 20:00 – start (Japan time)
Real Venue: Amazon Music Studio Tokyo (by invitation only)
1-4F Top Hill Jinnan Building, 1-6-9 Jinnan, Shibuya-ku, Tokyo
Metaverse Venue: In XANA App
▼To join via XANA APP
Step 1: Download the app
https://web.xana.net/xana-metaverse-mobile-app-download-information/
*Please make sure to check in advance whether your mobile device is above the specifications compatible with the application.
If your device does not meet the specifications, the application may short-circuit or malfunction.
Step 2: Join XANA festival
EN:  https://bit.ly/3MYdXNz
JP:https://bit.ly/42eAQRk
*There will be no festival in the browser at this time
Please enjoy the mobile app, Youtube LIVE, and Twitter LIVE!
Other Live Streaming Platforms
Twitter Live:https://twitter.com/i/broadcasts/1yNxaNWVZjvKj
YouTube Live:https://youtube.com/live/hteeyz9c_bw?feature=share