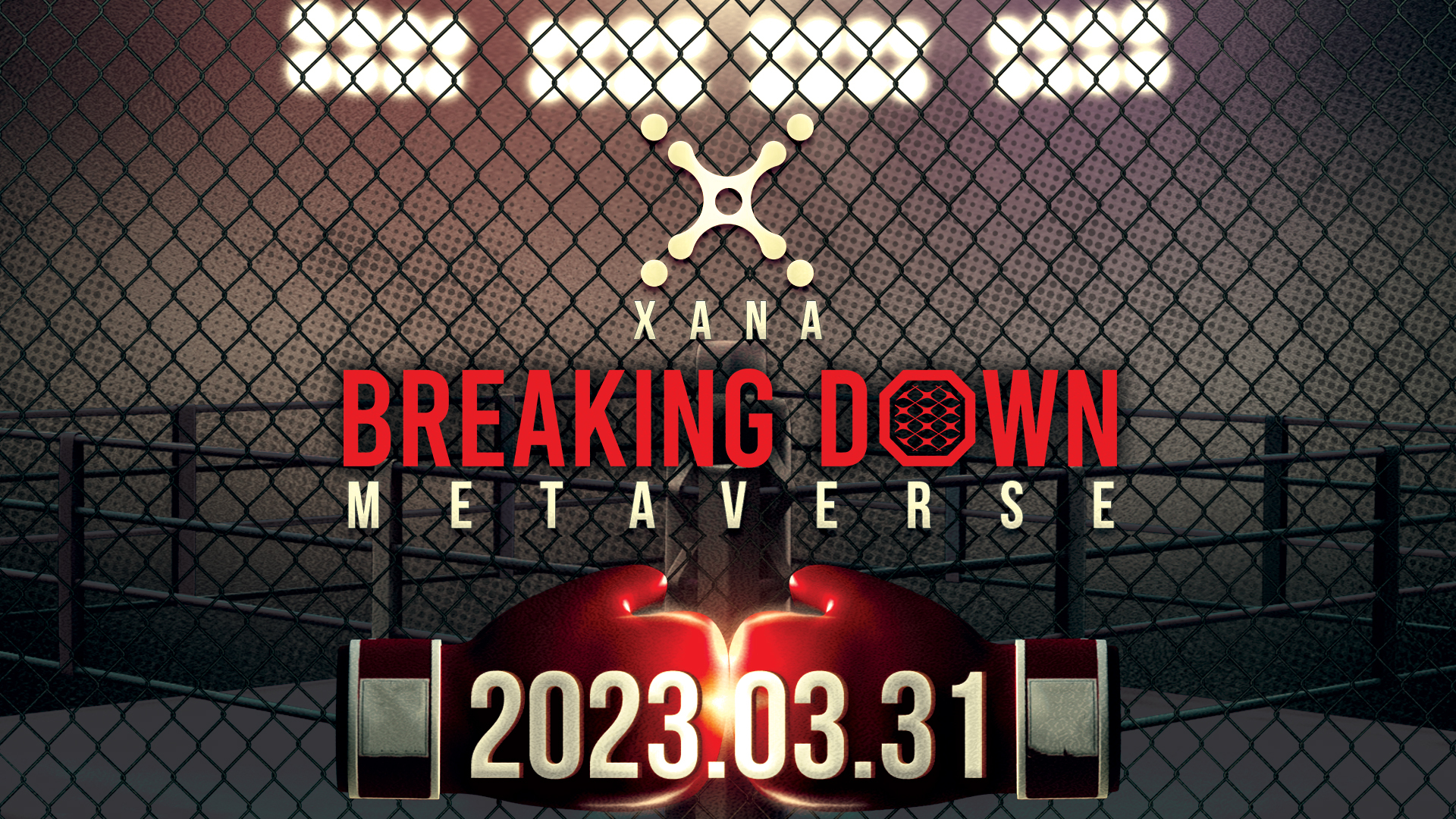 XANA Metaverse developed by Nobordrerz (CEO Rio Takeshi Kubo), and BreakingDown (CEO: Mikuru Asakura), the largest martial arts entertainment company in Japan had announced their plans to launch a Web 3.0 collaborative game in which avatars fight in the XANA metaverse following the rules of BreakingDown.
BreakingDown was founded by Japanese martial artist and entrepreneur Mikuru Asakura. It is Japan's largest martial arts entertainment company, recently boasting of having more than 300 million views for a single show in just two years since its establishment.
XANA is a unique Web3-type metaverse created by Rio, a Japanese Web3 entrepreneur residing in Dubai. The company has been listed on the world's largest major exchanges and has been widely introduced to Fuji Sankei Group, J&J (JTB, JCB), local governments, and China's largest educational institutions, as well as K-POP stars and top Japanese celebrities.
Collaboration Content
A BreakingDown arena will be built on the XANA land, where players will fight as avatars of NFT. XANA will also cross the metaverse and reality with each other, starting with BreakingDown 7.5 and continuing to gain exposure in the real BreakingDown.
Metaverse NFT
The collaborative NFTs will be called "XANA x BREAKINGDOWN," and there will be thousands of generative avatars which are all unique and one-of-a-kind. XANA has previously released "XANA: GENESIS," an AI-powered avatar that has become an employee of Tottori Prefecture, rising from 0.05 ETH to a maximum of 0.9 ETH (74 USD to 1,396 USD), and "XANA: PENEPNZ," the official character of the company, a penguin, rising from free distribution to a maximum of 1.78 ETH (from 0 to 2,792 USD). The 600 million yen worth of XANA land is sold out in one day, and collaborations with Astro Boy, ULTRAMAN, and other iconic Japanese characters sold out tens of thousands of NFTs in seconds, all of which have been top-class successes in the global NFT market.
In the coming years, all types of content will evolve from traditional viewer-based online entertainment to immersive, metaverse-based entertainment. XANA is currently one of the largest Web3 metaverses in the world, and together with BreakingDown, Japan's largest martial arts entertainment company, we hope to bring the next generation of martial arts content to the world. I am a fan of BreakingDown so much that I never miss watching any of the tournaments. I would like to deliver something exciting so that many people can enjoy this fun in the Metaverse as well.
In a short period, BreakingDown has grown to become the most popular fighting content in Japan, thanks to the efforts of many stakeholders and fans. We would like to continue to evolve into global content by expanding into new markets and next-generation platforms. We are therefore delighted to have the opportunity to challenge the global market in the fields of Web 3.0 with XANA, a company that has a proven track record internationally and continues to take on cutting-edge challenges in the field of Web 3.0 and the Metaverse.