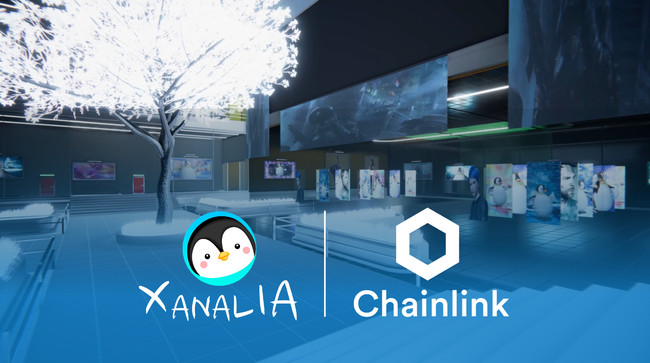 XANALIA, a metaverse-compatible NFT marketplace developed by NOBORDER.z FZE (CEO: RIO TAKESHI KUBO, hereinafter referred to as "NOBORDER.z"), has announced a partnership with Chainlink Labs, the developer of [Chainlink], a large-scale blockchain project with a valuation value of over 1.4 trillion yen for the NFT technology introduction tie-up with Chainlink Labs.
XANALIA, a fast-growing NFT marketplace that ranked 8th in the world in terms of global trading volume (according to Dapps.com) in July this year, announced that it had introduced Chainlink VRF, proposed by Chainlink Labs, to enable completely random NFT minting without any tampering or bias. This ensures a higher level of transparency and fairness in how NFTs are distributed, which has an exciting game aspect of chance and unpredictability.
■ Background of Technology Introduction
XANALIA is a decentralized, multi-chain NFT marketplace for metaverses, providing utilities to turn intellectual property such as world-famous animations, games, and various digital art into digitally copyrighted, tradable crypto-assets that can be used in NFT games and XANALIA's own NFT metaverse, XANA.
As well as POLYGON and Binance Smart Chain, which are faster than Ethereum and significantly reduce the cost of processing at the protocol level and inline, XANALIA provides an opportunity for everyone to have easy access to NFT.
■ Challenges with existing solutions
One of the new features of the XANALIA marketplace is the NFT Blind Box, which casts NFTs by random number draw based purely on contingence to the user at the time of purchase. To distribute randomly to users in a completely secure and unbiased manner, users need access to a secure random number generator (RNG) that can be independently audited. However, many smart contract-based RNG solutions used in the current NFT market are difficult to prevent manipulation by developers and prediction by the oracle completely.
For example, RNG solutions derived from on-chain data, such as block hashes, can be exploited by blockchain miners through re-org attacks. On the other hand, RNG solutions derived from off-chain data providers are opaque and cannot provide users with conclusive evidence of the integrity of the process.
■ Implementing a new solution
On the contrary, Chainlink VRF is a tamper-proof and auditable RNG solution that allows us to assure that our NFT distribution is verifiably fair. The Chainlink VRF is a mechanism that generates random numbers and cryptographic proofs by combining block data, which is still unknown at the time the request is made, with a private key that an Oracle node has previously committed.XANALIA accepts the input of random numbers only when there is valid cryptographic proof.XANALIA will only accept random number input if there is a valid cryptographic proof, and the cryptographic proof will only be generated if the VRF process is tamper-proof. This allows us to provide the user with automatic and publicly verifiable proof that the blind box results cannot be tampered with or predicted by Oracle, external entities, or internal developers.
■ The outcome of the implementation
The "Monkey King" Metaverse Avatar NFT," the first blind box NFT collection to be launched at XANALIA, is a popular NFT series in China and has been on sale at XANALIA since September 26th, recording sales of US$427,570 (approximately 50 million Japanese yen). As a result, sales of 427,570 US dollars (about 50 million Japanese yen) were recorded.
Chain Link is a mega-unicorn in the blockchain market with a current market capitalization of over 1.4 trillion yen four years after its launch. This partnership is expected to promote the further growth of XANALIA and synergistic effects such as the expansion of Chainlink's presence in the NFT history.
■ About Chainlink
Founded in 2017, Chain Link is an abstraction layer of the blockchain that enables universally connected smart contracts. Chain Link enables blockchains to securely interact with external data feeds, events, and payment methods through a decentralized oracle network, providing the critical cross-chain information needed for complex smart contracts to become mainstream digital agreements.
The Chainlink network is run by a large open-source community of data providers, node operators, smart contract developers, researchers, and security auditors. The company emphasizes that decentralized participation is guaranteed for all node operators and users willing to contribute to the network.
■ About XANALIA
XANALIA is an NFT marketplace attracting global attention, having won 8th place in the global trading volume ranking in July and the "No.1 Expected NFT Marketplace" in Japan. It was developed by NOBORDER.z and managed by XANALIA Limited. It features (1) NFT, (2) linkage with the metaverse, and (3) the DeFi (decentralized finance) model, which are currently the fastest growing areas in the blockchain market, and its diluted potential market capitalization exceeded $1.4 billion (about 165 billion yen) just one month after its launch.
Currently, in collaboration with Pony Canyon Planning Inc., Fuji Land Inc., and Fuji Creative Corporation, 『XANALIA NFTART AWARDS 2021』 is being held to support the discovery of creators worldwide.
■ Site https://xanalia.com
■ Twitter https://twitter.com/xanalia_nft
■ Discord https://discord.com/invite/XANA
■ Youtube https://www.youtube.com/channel/UCTNrP6B0gH04_kMCsOfCSYA
■ Facebook https://www.facebook.com/xanalianft/
■ Instagram https://www.instagram.com/xanalia_nft
■ Medium  https://xanalianft.medium.com/
■ About NOBORDER.z
We are a next-generation entertainment technology company with a vision of a "Wonderful World with No Borders." The company is a next-generation entertainment technology company with operations in five countries worldwide, centered in New York and Dubai. The company is engaged in businesses that integrate entertainment and technology, such as the blockchain technology-based Metaverse and the NFT platform.
■ Company Profile
| | |
| --- | --- |
| Company Name | NOBORDER.z FZE |
| Location | Business Center, AI Smooch Building, UAQ Free Trade Zone, Umm AI Quwain, UAE. |
| Business | Development of VR, XR, AI, NFT, and blockchain technologies and management services |
| CEO | Rio Takeshi Kubo |
| Website | https://www.noborderz.com |
| Twitter | https://twitter.com/rio_noborderz |
■ Contact