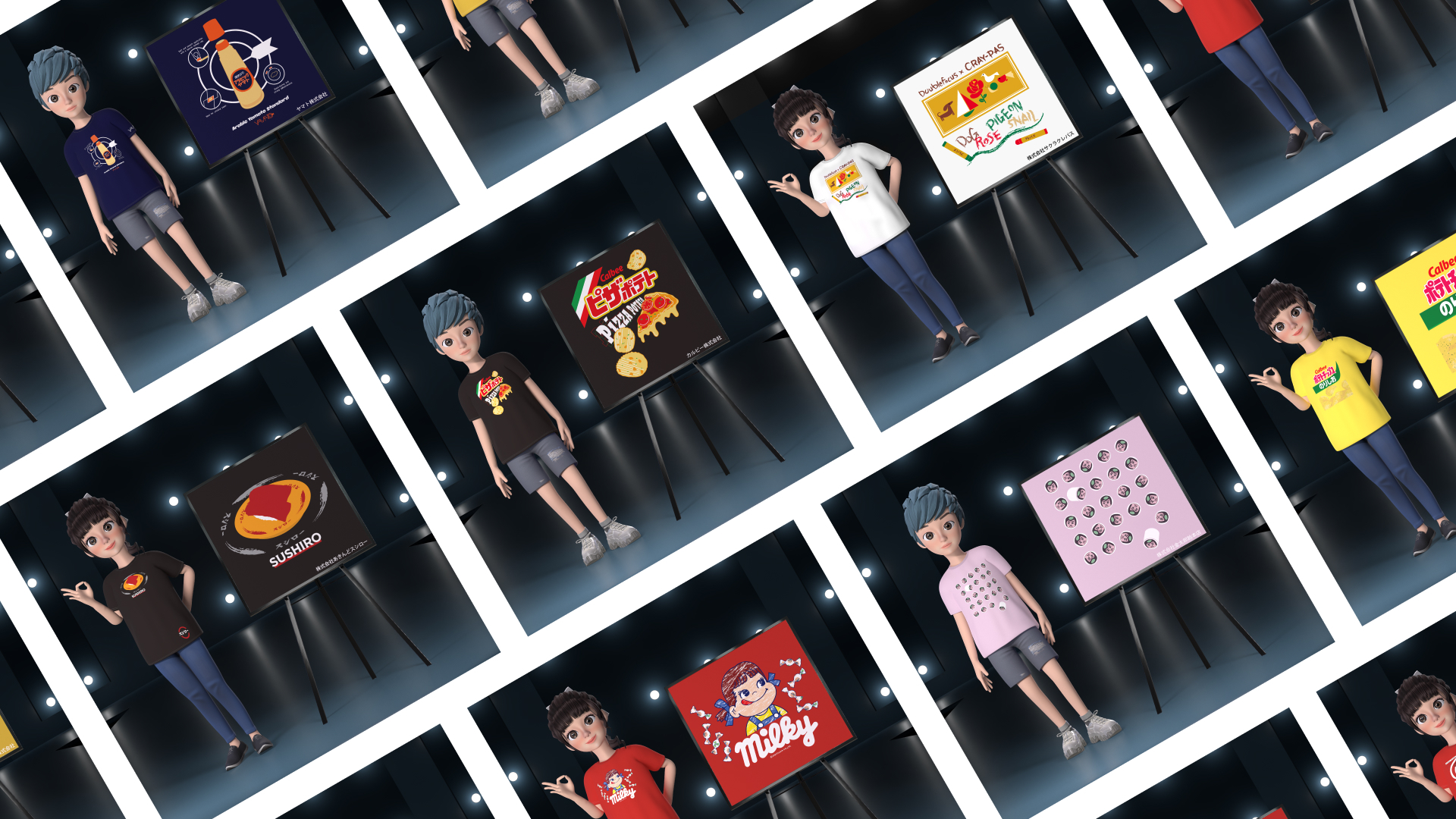 NOBORDER.z FZE (NOBORDER.z, CEO: RIO TAKESHI KUBO / hereinafter "NOBORDER.z"), AEON Retail Co. (CEO: Takemi Ide / hereafter, AEON RETAIL), ZELS (CEO: Kenji Taguchi / hereinafter "ZELS") have announced the worldwide release of wearable NFTs that avatars can wear in the Web 3.0 metaverse "XANA" developed by NOBORDER.z. At the same time, they are announcing the release of real "Corporate Collaboration® T-shirts" at AEON stores nationwide※4.
This NFT project was realized by converting the "Corporate Collaboration® T-shirts" to NFTs, which are sold by "Double Focus", a casual fashion brand by AEON Retail which operates stores in Honshu (excluding Tohoku) and Shikoku (about 74,000 employees), one of Japan's largest distribution groups, "AEON". The "Corporate Collaboration® T-Shirt" was recreated in the metaverse so that avatars in the Web 3.0 metaverse "XANA," which is currently attracting worldwide attention, can wear it, and the NFT version was made possible.
The "Corporate Collaboration® T-shirts" are designed by ZELS, the trademark owner, with over 30 years of accumulated know-how and a track record of producing for over 1,000 companies in other industries, including major apparel distributors. The Participating companies include Potato Chips" and "Jagarico" by Calbee Co.Ltd., "Sumo", and Recruit Co., and a variety of other manufacturers, such as stationery companies and restaurant chains.
A portion of the real "Corporate Collaboration®" T-shirts, has been designed "exclusively for Aeon" featuring the logos of leading Japanese historical companies and illustrations of their popular products not only on the front but also on the back and cuffs, will be available for sale at approximately 350 Aeon stores nationwide. In the meantime, it will also be available as NFTs on the dedicated sales page of XANALIA, the NFT marketplace of the XANA metaverse. Customers who purchase NFTs will be able to freely change their avatar's clothes and enjoy wearing matching T-shirts in the real world as well.
NFT "Corporate Collaboration® T-Shirt" Sales Overview
Launch Date
2023/02/04 (Sat) 21:00

JST

Sales website
NFT Marketplace "XANALIA"※1
Sales type
16 patterns from 10 companies※2
Sales Price
$5 ※3
※1:You can purchase the product on the launch date on a dedicated sales page from the "Launchpad" on the website ( https://xanalia.com/ ).
※2:Each pattern is limited to 200 pieces (a total of 3,200 pieces), so sales will end as soon as the pattern is sold out.
※3:The price displayed on the NFT is not in dollars but in the cryptocurrency XETA, and the payment also should be made in XETA (due to the blockchain mechanism, a fee (gas fee) is required in addition to the listed price).
Real "Corporate Collaboration® T-Shirts" Sales Overview
| | |
| --- | --- |
| Available on sale | Order Starts from 2023/01/27 (Fri) |
| Sales Stores | Nationwide "AEON", "AEON STYLE", etc. approx. 350 stores ※4 |
| WEB Sale | Aeon Style Online( https://aeonretail.com/list/f-corporat-tee/ ) |
| Type | 25 patterns from 17 companies ( of which 16 patterns from 10 companies were converted to NFT) |
| Size | XS~2XL (Men's size, unisex wearable) |
| Price | 1,380 yen (1,518 yen including tax) |
※4:Some stores may not carry the product. Product variety varies from store to store.