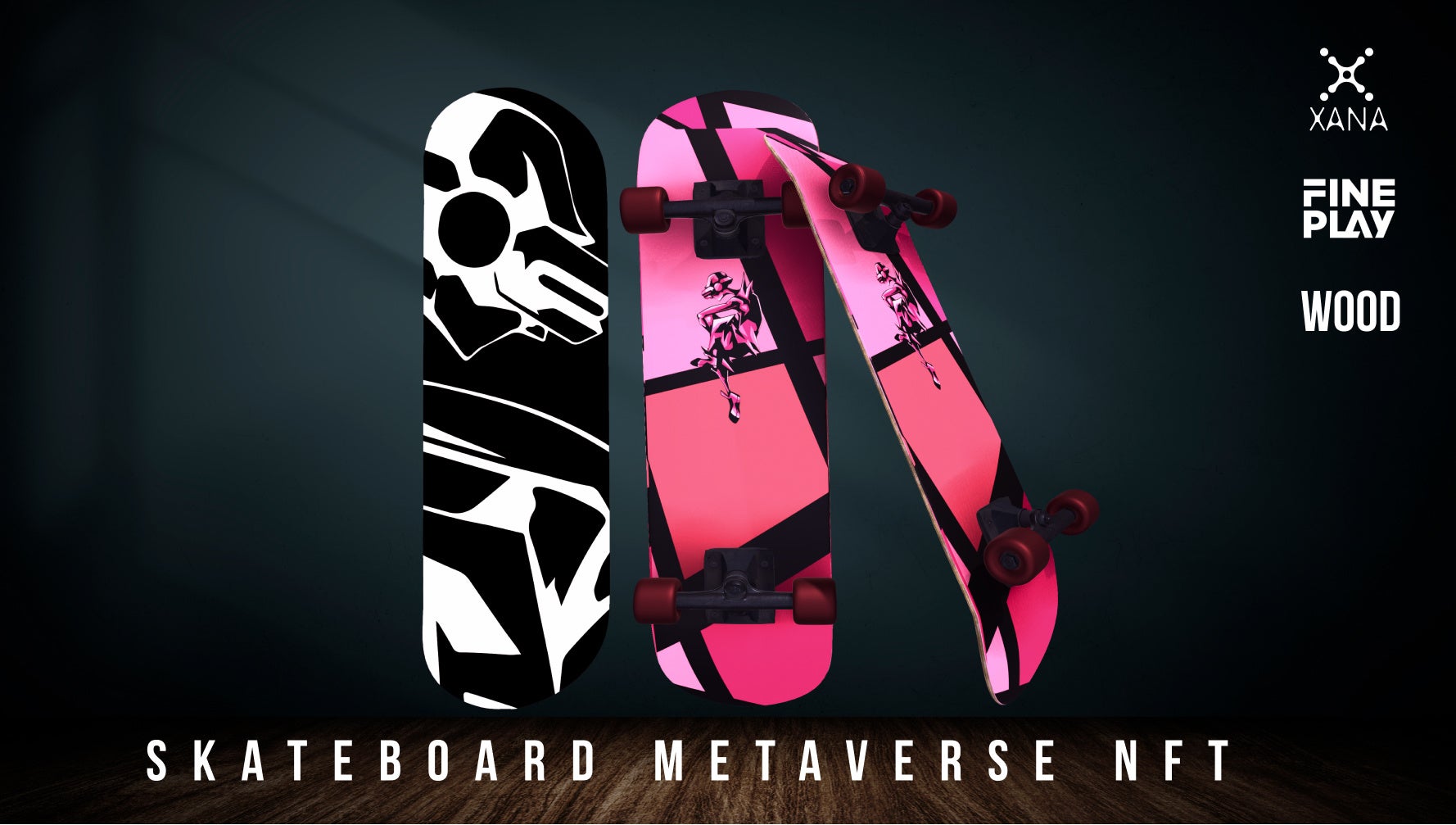 NOBORDER.z FZE ( CEO: RIO TAKESHI KUBO, hereinafter referred to as "NOBORDER.z") along with a joint venture between(ZETA, CEO: Eiji Zaima, Shibuya-ku, Tokyo) and (Kawasaki City, Kanagawa Prefecture; CEO: Manabu Morita; hereinafter referred to as STYLUS), and graffiti artist WOOD by Morita Manabu (hereinafter referred to as WOOD), the company has released an NFT collection of skateboards for avatars to ride in its metaverse space "XANA".
XANA, a popular metaverse project, has announced NFT collaborations with world-famous characters such as ULTRAMAN and Astro Boy, and has already attracted more than 100,000 pre-orders and community members worldwide in preparation for its opening to the public in March.The biggest feature of XANA is that all assets in the metaverse can be handled as NFTs, and everything from land to avatars and avatar clothing can be traded as NFTs on XANALIA, the company's NFT marketplace linked to XANA.In response to the success of Japanese skateboarders at the Tokyo 2020 Summer Olympics, this collaboration was realized with the mission of bringing street art to the global market in a new form of metaverse NFT.
■ Metaverse Skateboarding Metaverse NFT Trailer
■ Initiatives taken by each Companies
WOOD's works are available for purchase on XANALIA, an international next-generation NFT marketplace operated by NOBORDER.z. The works can be collected as NFTs with originality, of course. In the future, avatars will be able to ride and enjoy themselves in the company's metaverse application "XANA".
For this initiative, ZETA will provide PR development through FINEPLAY (https://fineplay.me/), one of Japan's largest action sports and street culture media operated by ZETA, as well as planning and production support for NFT contents. NOBORDER.z will provide PR support through its NFT marketplace "XANALIA", NFT production support, and NFT item production support for use in the metaverse space "XANA", while STYLUS Inc. will provide content for production support and supervise this activity.
■ Regarding Creator
WOOD by Morita Manabu
His style is full of playfulness, and his choice of materials reminds us of his generation. His style, which is supported not only by young people but also by the middle range of age groups, gives a strong impression of freedom without being particular about the tools used to draw. Canvas, which expresses different textures for each tool, is inspired by the expression of animation.
The process of layering different layers of acrylic, paint, spray, magic, etc. with different textures gives a digital impression reminiscent of the layers used in animation production.
He has also been in charge of various creative directions for Red Bull Japan, and has directed studio visuals and created program title logos for popular programs such as Fuji Television's "Mononoke Hunt" and ["ZERO-ICHI Dekin no ka!].He is now gaining support as an artist who is expected to be even more active in Japan.
■ About XANA
A metaverse platform and blockchain infrastructure based on NFT, developed by NOBORDER.z.The company provides a variety of products, services, and technologies that allow users, companies, and IPs to freely conduct various activities on the metaverse.It is currently one of the most popular metaverse platforms in the world, and has announced various collaborations such as the Koto Heartful Museum, which aims to promote the Tokyo Olympics and Paralympics, Milan Fashion Week in Italy, ULTRAMAN and Astro Boy x local governments.
■ About XANALIA
XANALIA, developed by NOBORDER.z and operated by XANALIA Limited, is an NFT marketplace attracting global attention. The marketplace has secured 8th rank in the global trading volume ranking and 1st in the expected NFT marketplace in Japan in July. The key features of XANALIA are:1. NFT , 2. Linkage with the metaverse. 3.The DeFi (decentralized finance) model,which are currently the fastest-growing area in the blockchain market. Its diluted potential market capitalisation exceeded $1.4 billion (about 165 billion yen) just one month after its launch.
Together with Pony Canyon Planning, IncFuji Land, Inc. and Fuji Creative Corporation are holding the "XANALIA NFTART AWARDS 2021" to promote and encourage creators globally.

■ About FinePlay
FINEPLAY is an internet media that provides a wide range of information and contents on action sports and street culture such as surfing, street dance, skateboarding, snowboarding, parkour and freestyle from around the world.It currently distributes news and video content to 20 services, including SPORTS BULL operated by Undo Tsushinsha, and Yahoo!.The company is also actively involved in program production cooperation, casting, and event planning.

■ About ZETA Corporation
"The world's one and only urban sports community company.The "Z" stands for the best and the ultimate, there is no higher than this.By combining media x design x data x technology, ZETA will provide services that go beyond the conventional framework to the action sports and street culture scene, and will create new value.

■ About STYLUS
STYLUS aims to return the original value of creators directly to users by producing art in a comprehensive manner.The value of painting, music, video, and design, which can be adapted to any place, is being evaluated with increasing speed, and the bold direction of arranging space into fashion has been highly evaluated in various fields.Paintings give color to space, music makes people move, the market accelerates through images, and design gives users a deeper understanding.As a result of such a wide range of activities, we are one of the few companies that are able to outsource art in a comprehensive, rather than limited, manner.At the same time, we are a company that manages the production and management of the art business, constantly capturing the " current " of the people and delivering innovative proposals in a world where new perceptions continue to emerge.
■ About NOBORDER.z
With a vision of "Wonderful World with NO Borders", we are a next-generation entertainment technology company with operations in five countries, including New York and Dubai.The company develops blockchain-based Metaverse and NFT platforms are a fusion of entertainment and technology.
| | |
| --- | --- |
| company name | NOBORDER.z FZE |
| location | Business Center, AI Smooch Building, UAQ Free Trade Zone, Umm AL Quwain, UAE. |
| Business content | Development of blockchain technology, VR, XR, AI, NFT and operation of services |
| Representative | Rio Takeshi Kubo |
| site | https://www.noborderz.com/ |
| Representative Twitter | https://twitter.com/rio_noborderz |

■ Contact