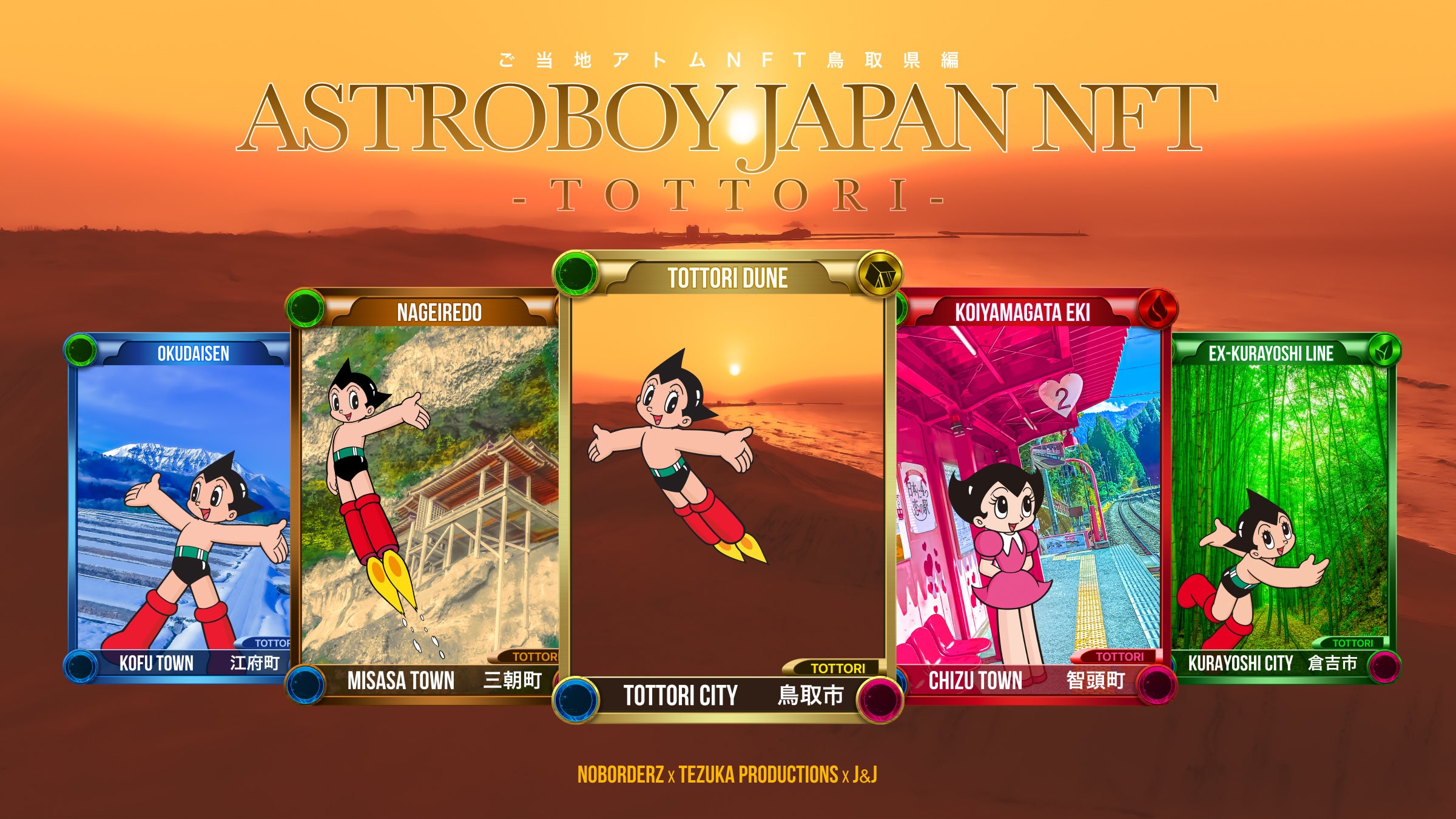 NOBORDER.z FZE (CEO: RIO TAKESHI KUBO, hereinafter referred to as NOBORDER.z), Tezuka Productions Inc. (President: Takayuki Matsutani, hereinafter referred to as Tezuka Productions)andJ&J Business Creation (President: Masami Suzuki, hereinafter referred to as "J&J Business Creation"), a joint venture between JTB Corporation and JCB Corporation have announced the launch of new NFT game card system based on the theme of regional development that can be used in the metaverse-compatible NFT marketplace "XANALIA" and the NFT game "NFTDUEL" on the metaverse "XANA". developed by NOBORDER.z
This NFT project brings together three key elements: Tezuka Productions, which produces some of the world's most influential manga and anime content; the JTB's network of tourism resources and local governments throughout Japan; and NOBORDER.z's NFT blockchain technology and Metaverse technology. The project aims to restore and support the local economy and the domestic tourism market, which were severely damaged by the Corona disaster, by releasing NFTs that can be used in NFT games in the metaverse to the global market.
The three companies have collaborated with each of Japan's "localities" to turn the world-famous and iconic Japanese character "Astro Boy" into NFTs that can be used as game cards in the NFT trading card game "NFTDUEL" linked to the metaverse "XANA" and distributed worldwide.Users will be able to own NFTs filled with the charm and culture of each region of Japan as their own assets, and they can also create new cards by combining cards, and They can also create new cards by combining cards, and monetize them by buying and selling them.
The rise of the NFT has led to the rapid spread of new digital assets around the world.
The expansion of the metaverse has led to a shift towards new lifestyles and business styles that are less constrained by distance.This project will take an innovative and unprecedented approach to create a new IP that is unique to Japan, and rediscover the appeal of Japan to new audiences both at a domestic and overseas , thereby encouraging a renewed inbound demand for After Corona, while at the same time donating a portion of the proceeds to local industries,creating a revolutionary form of reconstruction support.
■ About XANA
NOBORDER.z is a platform and blockchain infrastructure for the NFT-based metaverse. NOBORDER.z provides a range of products, services and technologies that allow users, companies and IPs to engage freely in a variety of activities on the metaverse.
● XANASite : https://xana.net
● The first collaboration Region [Tottori Prefecture].
This is the first collaboration with a local Japanese prefecture.
Tottori is a prefecture that is making various efforts to promote the space industry.In addition, 「Tottori prefecture」 has been branded as 「Hoshitori prefecture」 because it is the best city in Japan for continuous observation of the starry sky.Tottori Prefecture's various scenic spots, culture and food will be combined with new technology to promote the prefecture
● About Tezuka Productions
The company was established in 1968 by Osamu Tezuka as his own Manga and animation production company.The company has created many masterpieces that have left their mark on the world's manga and animation history, such as 「Astro Boy」, 「Firebird」 and
「Black Jack」.At present, in addition to managing the copyrights of Tezuka's works and producing animation.It also manages the Osamu Tezuka Memorial Museum in Takarazuka City, Hyogo Prefecture.
Tezuka Productions website: https://tezuka.co.jp
● About J&J Business Creation Co.
JTB is a joint venture business development company established by JTB Corporation and JCB Corporation (JCB). This company is engaged in the development and promotion of cutting-edge technologies, utilizing the management resources of both companies.
J&J Group website: http://www.jj-group.jp
● About NOBORDER.z
With a vision of "Wonderful World with NO Borders", we are a next-generation entertainment technology company with operations in five countries, including New York and Dubai.The company develops blockchain-based Metaverse and NFT platforms are a fusion of entertainment and technology.
● XANA Link
● About NFT Duel
NFT DUEL is an NFT game developed by NOBORDER.z, which uses NFT technology to take one of the world's most popular game genres, the trading card game, and give the user true ownership of the cards themselves, allowing them to be freely traded on the global market. game developed by NOBORDER.z. In addition the game is also linked with the NFT metaverse XANA developed by NOBORDER.z, users will be able to play as avatars, interact freely in the NFT-built metaverse, competing with other users they meet, and enjoy the storyline that takes place in the worlds created in collaboration with various IPs.
● About XANALIA
XANALIA, developed by NOBORDER.z and operated by XANALIA Limited, is an NFT marketplace attracting global attention. The marketplace has secured 8th rank in the global trading volume ranking and 1st in the expected NFT marketplace in Japan in July. The key features of XANALIA are:1. NFT , 2. Linkage with the metaverse. 3.The DeFi (decentralized finance) model,which are currently the fastest-growing area in the blockchain market. Its diluted potential market capitalisation exceeded $1.4 billion (about 165 billion yen) just one month after its launch.
Together with Pony Canyon Planning, IncFuji Land, Inc. and Fuji Creative Corporation are holding the "XANALIA NFTART AWARDS 2021" to promote and encourage creators globally.
● Website: https://xanalia.com
● Twitter : https://twitter.com/xanalia_nft
● Company Overview
| | |
| --- | --- |
| Company Name | NOBORDER.z FZE |
| location | Business Center, AI Smooch Building, UAQ Free Trade Zone, Umm AL Quwain, UAE. |
| Business content | Development of blockchain technology, VR, XR, AI, NFT and operation of services |
| Representative |   Rio Takeshi Kubo |
| site | https://www.noborderz.com/ |
● Contact