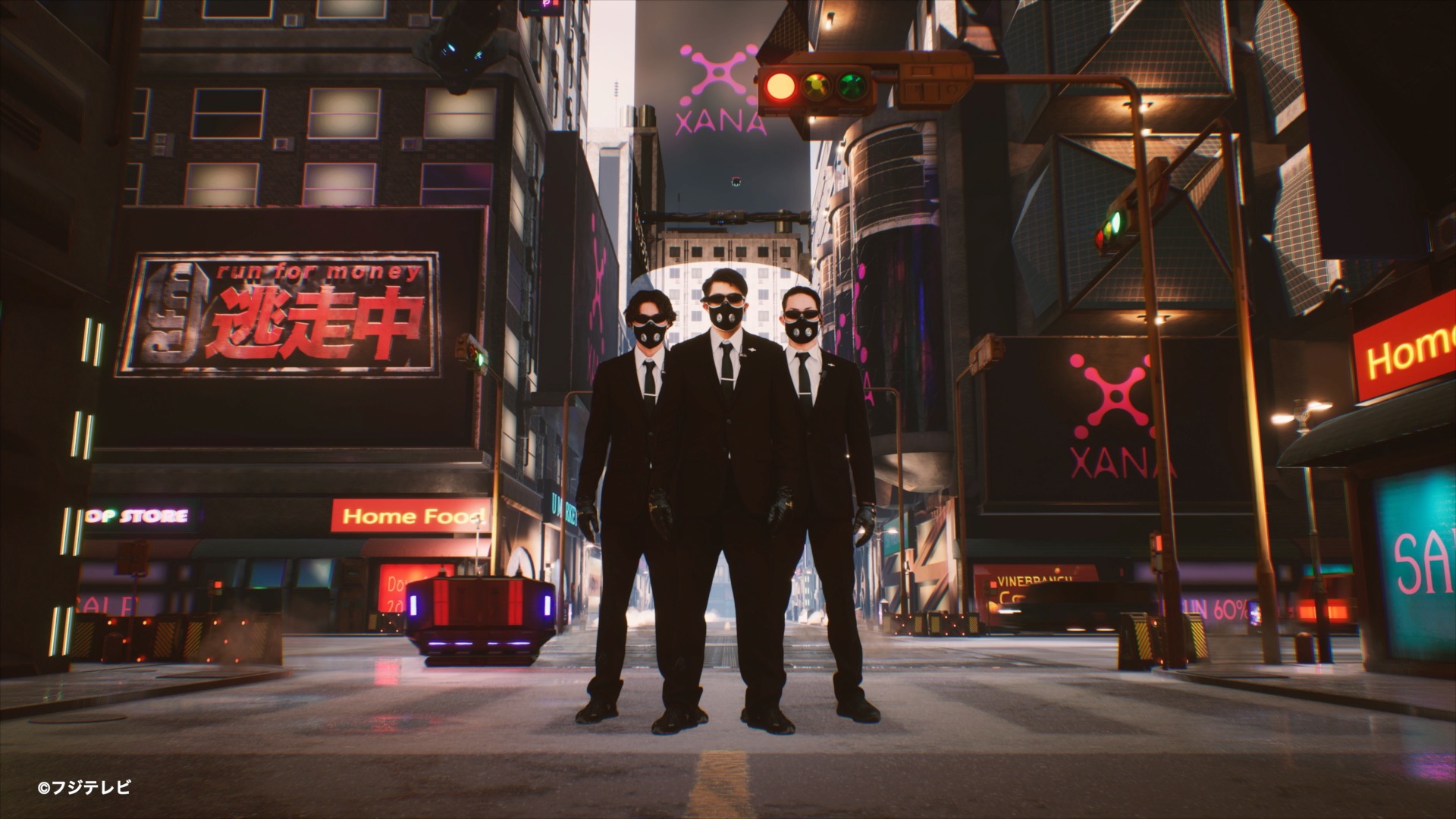 XANA, a Web 3.0 type metaverse developed by NOBORDER.z FZE (NOBORDER.z, CEO: RIO TAKESHI KUBO, hereafter referred to as NOBORDER.z), has announced that it will develop an NFT game adaptation of the popular Fuji Television program『逃走中 – Run for Money -』 on the XANA metaverse. This is the first time ever that such a major program has been made into a major metaverse and NFT game.
"Run for Money" is a national game variety show that has been aired on Fuji Television since 2004. The show is set in early morning streets, theme parks, shopping centers, etc., and has gained popularity by featuring famous celebrities playing a large-scale game of tag. Its popularity is widely known not only in Japan but also overseas, and it has attracted attention for its exclusive worldwide distribution of all four episodes on Netflix.
XANA is currently one of the world's most popular Web 3.0 type metaverse and has made a sensation by recording the largest NFT sale ever for a Japanese-affiliated project, selling 600 million yen worth of land on the metaverse as NFT in 9 hours last month in October. This July, the company expanded its cutting-edge efforts internationally with simultaneous listings on major exchanges and the first NFT game adaptation of world-renowned Japanese IPs such as ULTRAMAN and Astro Boy.
NOBORDER.z has been preparing for the adaptation of "Run for Money" into a Metaverse NFT game since last year, and today we are pleased to announce this cutting-edge initiative in the Japanese media industry.
Development is in progress for the launch by the end of 2023, and after the launch, we will keep working on innovative projects integrating cutting-edge technology and linking with TV programs.
Comments from Representative
We have overcome many hurdles for this innovative approach and we are determined to do our best to meet the expectations of Fuji Television Network and Fuji Creative Corporation (FCC), who have chosen XANA as a partner to develop the metaverse for such a historic and well-known program, and above all, we will do our best to meet the expectations of the viewers who are the fans of the program.
As for Japan, content is one of the greatest weapons to compete in the world. The world is currently undergoing major changes with Web3, Metaverse, NFT, and Blockchain. I believe that fusing these borderless cutting-edge technologies with Japanese creativity to create something that can be enjoyed by people around the world will accelerate Japan's economic revival in the global market, which is currently stagnant.