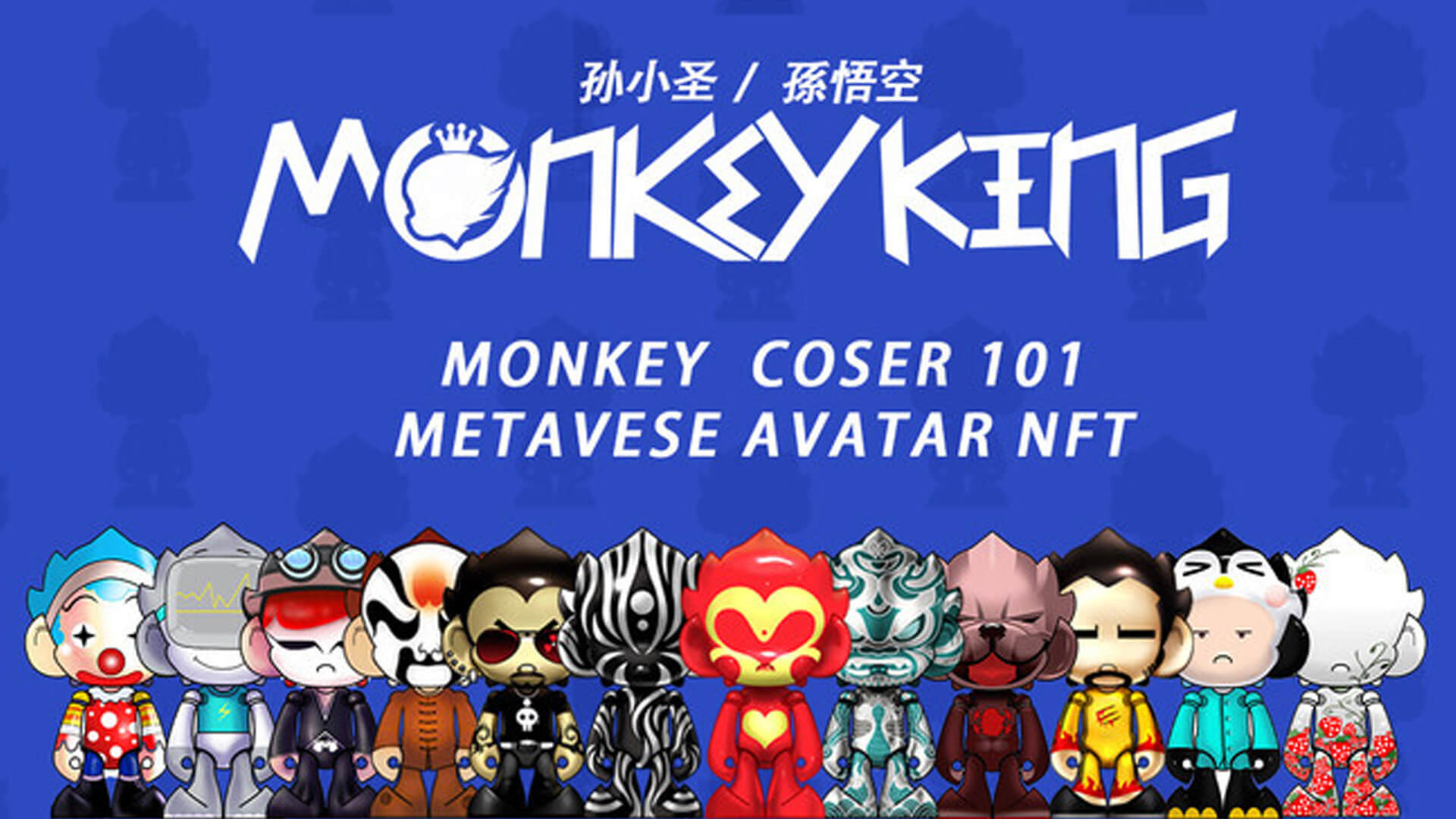 NOBORDER.z FZE (hereinafter: NOBORDER.z) (representative: RIO TAKESHI KUBO) develops a metaverse-compatible NFT marketplace "XANALIA," Hangzhou Mangong Wen Technology Co., Ltd. (hereinafter: IPBANK) (representative): Natsuho), it is decided to release the popular character "Monkey king" of China's leading visual artist Zhang Kenichi as an NFT avatar for Metaverse "XANA" from September 26.
This work is 101 types of Monkey King NFTs that are a deformation of the world-famous manga hero "Goku," which was published in France in 2004 and had the motif of the Chinese biography "Nishiyuki." The price is 299 USD (33,000 yen).
The Chinese version of this work, which was released only in China prior to the international version, sold out in just one minute, and the selling price is 999 yuan (about 17,000 yen) to the current maximum of 500,000 yuan (8.5 million yen). ) Has gained popularity, and the release of the international version is also attracting attention.
The feature of NFT owners is that they can use their avatars in the NFT metaverse "XANA" that works with "XANALIA".
■ Sales page
https://xanalia.com/store/MONKEY_KING
■ Release information
| | | |
| --- | --- | --- |
| September 26, 21:00 Japan time | No.1 –No.10 | Limited to 100 each |
| September 27, 21:00 Japan time | No.11 –No.20 | Limited to 100 each |
| September 28, 21:00 Japan time | No.21 –No.30 | Limited to 100 each |
| September 29, 21:00 Japan time | No.31 –No.40 | Limited to 100 each |
| September 30th, 21:00 Japan time | No.41 –No.50 | Limited to 100 each |
| October 1st, 21:00 Japan time | No.51 –No.60 | Limited to 100 each |
| October 2nd, 21:00 Japan time | No.61 –No.70 | Limited to 100 each |
| October 3rd, 21:00 Japan time | No.71 –No.80 | Limited to 100 each |
| October 4, 21:00 Japan time | No.81 –No.90 | Limited to 100 each |
| October 5th, 21:00 Japan time | No.91 –No.101 | Limited to 100 each |
■ About Monkey King (Son-Goku) Metaverse Avatar NFT
The latest version of Goku (Monkey King), the main character of Zhang Jian's masterpiece "Nishi Yuuki," is designed in a familiar form so that it can be applied to various purposes. It was sold out in China in just one minute after its release in September 2021.
"Sun Wukong" is a curious young monkey character who is not satisfied with being a monkey and enjoys transforming into various shapes, so he has become 101 types of avatars.
■ About Zhang Jian Yi
A well-known Chinese visual artist. He teaches at the Beijing Film Academy Animation School and the Central Academy of Fine Arts of China. He has been involved in animation production for many years, has published numerous comic works internationally, and is one of the earliest representatives of Chinese original animation, such as publishing a guidebook for animation production.
On the other hand, Kenichi has been successful as a businessman by establishing the sports trend brand "Muscle Dog" and expanding it to various countries. He is also a well-known tattoo artist and has worked on many works of world-famous people including Hollywood stars.
■ About XANALIA
XANALIA is an NFT marketplace that is currently attracting worldwide attention, ranking 8th in the world trading volume ranking in July and winning the "1st place in the expected NFT marketplace" in Japan. Developed by NOBORDER.z and operated by XANALIA Limited. It features NFT, which is currently the fastest-growing field in the blockchain market, and its linkage with the Metaverse, as well as a DeFi (decentralized finance) model. The total amount has exceeded 1.4 billion dollars (about 165 billion yen).
Currently, together with Pony Canyon Planning Co., Ltd., Fuji Land Co., Ltd., and Fuji Creative Corporation, we are holding "XANALIA NFTART AWARDS 2021" to help discover and support creators around the world.
■ About XANA
A metaverse (virtual space social media platform) developed by NOBORDER.z, in which all assets are created by NFT on the blockchain. Users can dress up as avatars and interact freely while enjoying various virtual content developed by other users and companies.
It is used by various companies and organizations such as the Olympic Games in Koto-ku, Tokyo, art exhibitions for the Paralympics, global DJ events, and South Asian esports competitions.
■ About Hangzhou Mansung Wen Technology Co., Ltd. (IPBANK)
IPBANK is a Chinese eco-industry chain service platform that focuses on copyright assets and uses blockchain digital rights development applications to add value to copyright assets.
Currently, he operates and develops more than 2000 global IPs such as movies, animations, literature, cultural properties, works of art, celebrities, games, sports, and NFT digital rights.
■ About NOBORDER.z
A next-generation entertainment technology company that has a vision of "a world without borders" and operates in five countries around the world, centered on New York and Dubai in the United States. It is a business that integrates entertainment and technology, such as Metaverse based on blockchain technology and the NFT platform.
■ Company Profile
| | |
| --- | --- |
| Company Name | NOBORDER.z FZE |
| Location | Business Center,  AI Smooch Building, UAQ Free Trade Zone, Umm AL Quwain, UAE. |
| Business | Development of VR, XR, AI, NFT, and blockchain technologies and management services |
| CEO | Rio Takeshi Kubo |
| Website | https://www.noborderz.com |
■ Contact