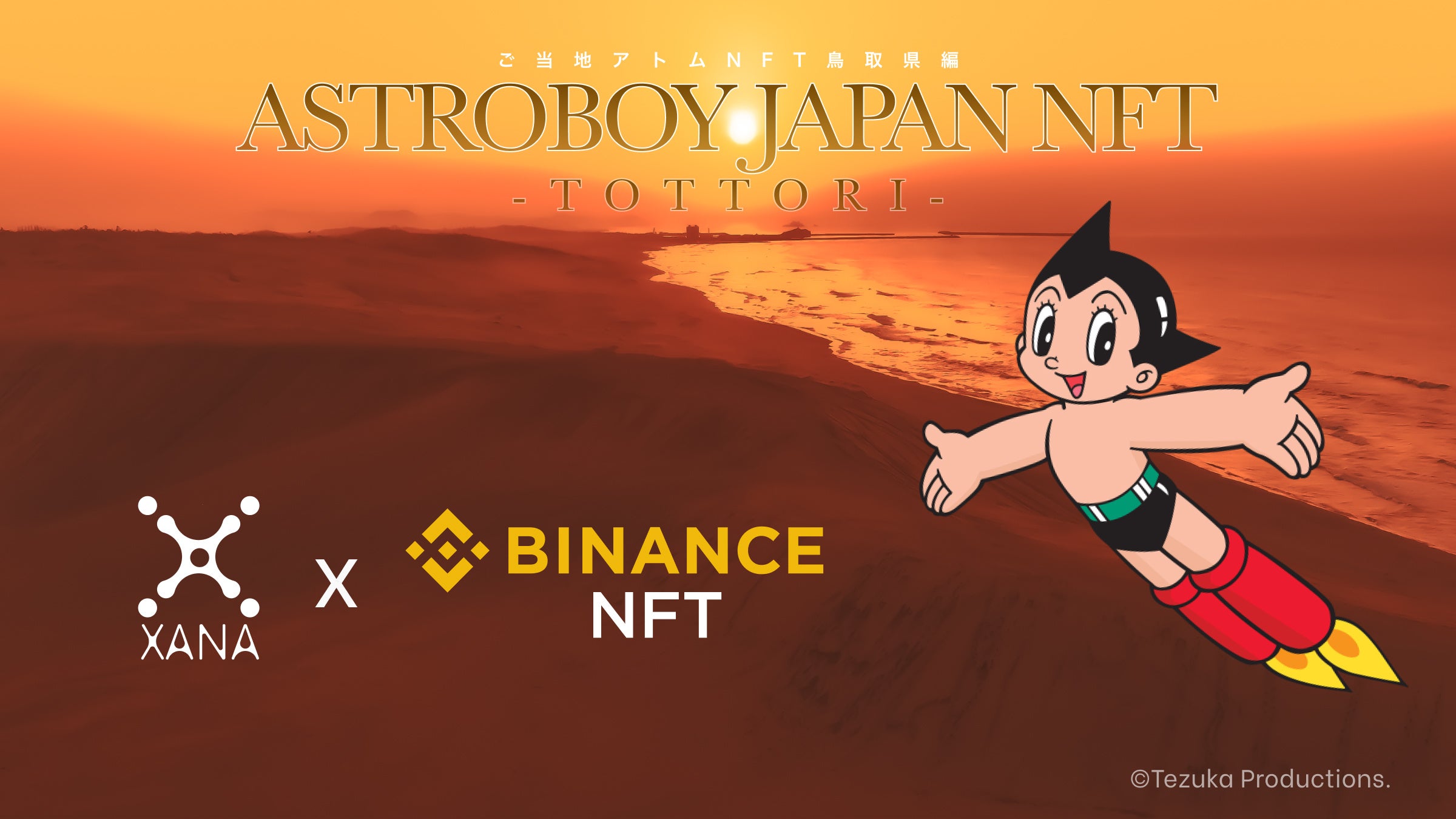 NOBORDER.z FZE (CEO: RIO TAKESHI KUBO), a blockchain company developing the XANA metaverse, has partnered with Binance, the world's largest cryptocurrency exchange, to acquire from Binance NFT, Tezuka Co. (President: Takayuki Matsutani), JTB Corporation and JCB Corporation, and J&J Business Creation Inc.(President: Masami Suzuki). With the cooperation with the mentioned companies, NoborderZ has announced the release of the Tottori Prefecture version of the NFT game card series "ASTROBOY x JAPAN (Local Atom) NFT", a joint project with JTB and JCB, Inc. under the theme of regional development.
■ About「ASTROBOY x JAPAN(Local Atom)NFT」
This NFT project will bring together Tezuka Productions' globally influential manga and anime content, the JTB Group's network of tourism resources and local governments throughout Japan, XANA's metaverse, and NFT games, in order to support the recovery of the regional economy and domestic tourism market that was severely damaged by the Corona disaster. The project aims to support the recovery by presenting NFTs that can be used in NFT games in the metaverse to the global market.At a press conference held by Tottori Prefecture Governor Shinji Hirai, the governor himself announced that Tottori Prefecture had become the first collaborator in the project, attracting a great deal of attention. This is the first time in Japan's history that a local government has collaborated with an NFT game.
■ Details of this sale
This launch will include 20,000 regular NFT cards (pre-registration sales) from Binance NFT, 5,000 regular NFT cards (available for direct purchase) from Galler, a Binance Group company, and 2,100 first-run limited edition from XANA's NFT marketplace, XANALIA Genesis NFT cards (pre-registration sales), followed by regular NFT cards, respectively. From Binance NFT, special NFTs will be sold on a pre-registration basis through a "staking page" as a major event.
■ Binance NFT
| | |
| --- | --- |
| Sale Date | 2022 /0 5 /0 5 |
| Sale Card | Normal card |
| Sale Price | 4 BUSD |
■ Galler NFT
| | |
| --- | --- |
| Sale Date | 2022 /0 5 /0 5 |
| Sale Card | Normal card |
| Sale Price | 4 BUSD |
■ XANA・XANALIA
| | |
| --- | --- |
| Scheduled Sale date | 2022 /0 5 /0 2  〜 05 /0 5 |
| Sale card | Genesis Card (First sale Limited edition) |
| Sale price | 0.6 ETH |
■ Social Contribution of this Project
The project will donate a portion of the proceeds to each local industry for the purpose of promoting a renewed demand for after-corona inbound tourism, and to the 「Binance Lunch For Children」, a charity sponsored by Binance that delivers meals to children in countries suffering from starvation.
■ First Collaboration Region 「Tottori Prefecture」
As the first local collaboration in Japan, Tottori Prefecture will be involved in various prefecture-wide efforts to promote the space industry and be the first prefecture in Japan. The tie-up with Tottori Prefecture, which is also branding itself as "Hoshitori Prefecture" because it is the best city in Japan for continuously observing the starry sky, has been decided. The appeal of Tottori Prefecture's various scenic spots, culture, and food will be promoted by fusing them with new technology.
■ About Astro Boy
「Astro Boy」 is a famous manga series created by Japanese cartoonist Osamu Tezuka. The plot is set in the future of the 21st century, where Atom, a kind-hearted 100,000-horsepower robot boy, uses his seven powers to significant effect. The story is loved not only in Japan but around the world.
■ About Tezuka Productions
Founded in 1968 by Osamu Tezuka himself as a manga and animation production company. The company has created many masterpieces that have gone down in the history of manga and animation around the world, including "Astro Boy," "The Bird of Fire," and "Black Jack. In addition to copyright control and animation production of Tezuka's works, the company also manages the Osamu Tezuka Memorial Museum in Takarazuka City, Hyogo Prefecture.
■ About J&J Business Creation Inc.
A joint venture business development company jointly established by JTB Corporation and JCB Corporation (JCB). The company is engaged in cutting-edge project development and promotion utilizing the management resources of the two companies.
■ What is NFTDuel?
NFTDuel" is a trading card game, one of the world's most popular game genres, that uses NFT technology to grant users true ownership of the cards themselves, allowing them to trade them freely on the global market.In addition, users themselves become avatars and can freely interact and compete with other users they meet in the NFT-constructed metaverse.In "NFTDuel: Local Atom Collection," users can own NFTs filled with the charm and culture of various regions of Japan, play with them, create new cards by combining them with each other, and sell or trade the cards for profit.

■ About XANA
NOBORDER.z has developed XANA as an NFT-based metaverse platform with blockchain infrastructure. We provide various products, services, and technologies so that users, companies, and IPs can freely perform multiple activities on the Metaverse. It is currently one of the world's most popular metaverse platforms, announcing amazing collaborations such as the Koto Heartfull Museum, which aims to promote the Tokyo Olympics and Paralympics, Milan Fashion Week in Italy, ULTRAMAN, Astro Boy x local government, and many more.
■ XANA Metaverse App (Public Alpha Version)
■ About XANALIA
XANALIA is an NFT marketplace that has attracted global attention, ranking 8th in global trading volume in July 2021 and "No. 1 NFT Marketplace in Expectations" in Japan, developed by NOBORDER.z and operated by XANALIA Limited. It features (1) NFT, (2) linkage with the Metaverse, and (3) DeFi (decentralized finance) model, which are currently the fastest growing areas in the blockchain market, and its diluted potential market capitalization exceeded $1.4 billion (approximately 165 billion yen) within one month after its launch.
Together with Pony Canyon Planning Inc., Fujiland Inc. and Fuji Creative Corporation, the company is holding the "XANALIA NFTART AWARDS 2021" to discover and support creators from around the world.
■ About NoBorderZ
NoborderZ is a next-generation entertainment technology company with a vision of "a world without borders" and operations in five countries worldwide, centered in New York, the USA and Dubai. The company operates a business that fuses entertainment and technology, including a metaverse based on blockchain technology and an NFT platform.
| | |
| --- | --- |
| Company Name | NOBORDER.z FZE |
| location | Business Center, AI Smooch Building, UAQ Free Trade Zone, Umm AI Quwain, UAE. |
| Business content | Development of blockchain technology, VR, XR, AI, NFT and operation of services |
| Representative | Rio Takeshi Kubo |
| Corporate site | https://www.noborderz.com/ |
| Representative Twitter | https://twitter.com/rio_noborderz |
■ Contact Information