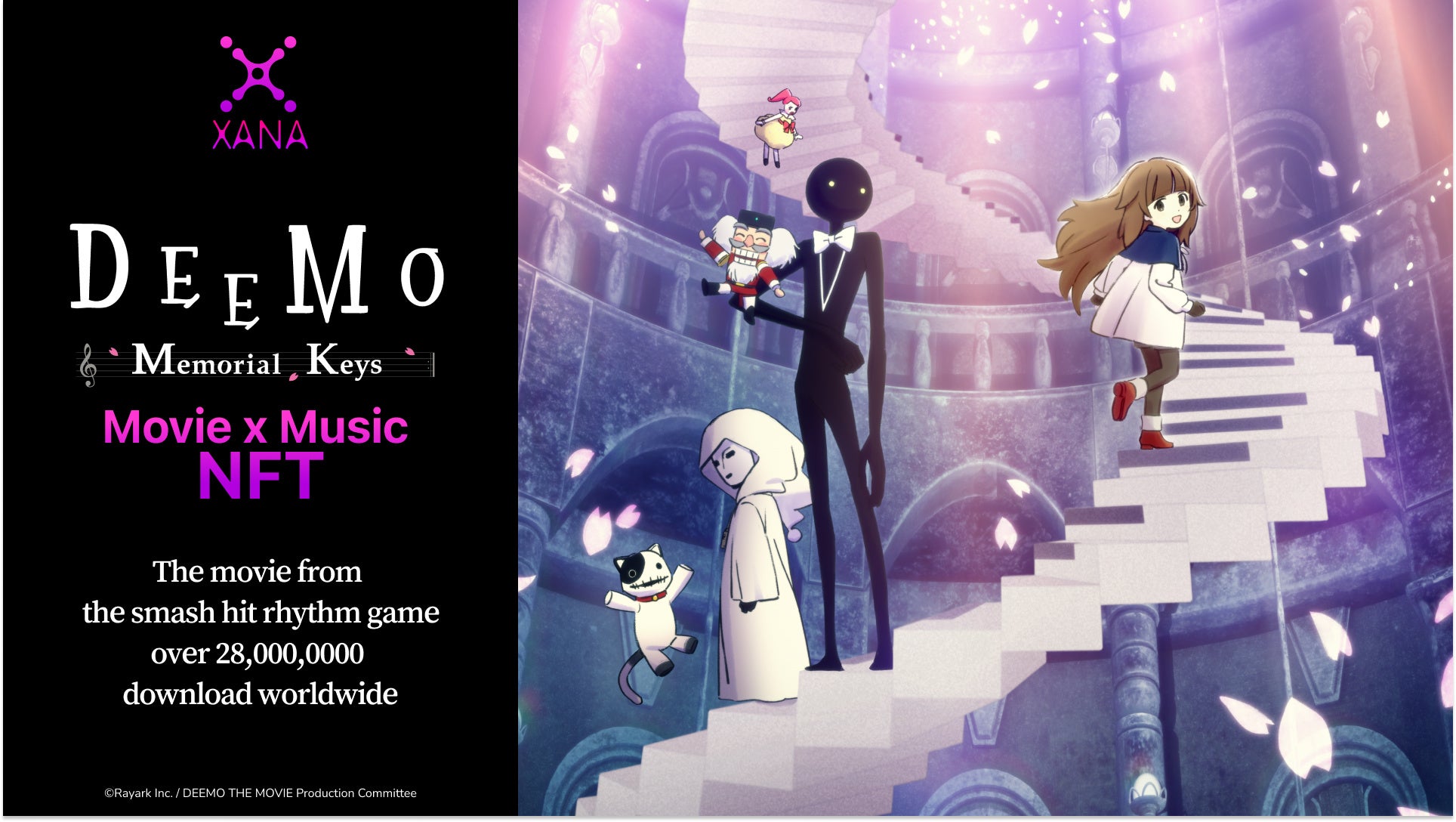 NOBORDER.z FZE (CEO: RIO TAKESHI KUBO / hereafter, NOBORDER.z), the developer of the XANA metaverse, is pleased to announce the worldwide release of NFTs based on the movie "DEEMO: Memorial Keys," produced by PONY CANYON INC. (CEO: Takashi Yoshimura), which has received worldwide acclaim. These one-of-a-kind music NFTs will be released this summer. The whitelist is now available for early adopters.
■ About the NFT

"DEEMO" is a popular music rhythm game, downloaded more than 28 million times worldwide. After opening in Japan in February 2022, the film based on the game will screen in Taiwan, Hong Kong, Thailand, and other countries and regions, with a planned worldwide release. The NFT collection is a one-of-a-kind experience that combines impressive scenes from the film in theatrical quality with the film's music drawn from the hit game. Instead of merchandise that can only be obtained in Japanese theatres, as has been the case in the past, these NFTs are items that maximize the characteristics of the NFT format, allowing anyone to purchase one anywhere in the world and gain ownership rights over each one-of-a-kind item.
■ About the Movie
ANiMA", "Nine Point Eight," and "Leviathan"… all superbly crafted hit songs that fans around the world have gone wild for.
The birth of a new music film with a powerful sound that can only be experienced in a movie theatre!
"DEEMO" is a popular music rhythm game downloaded more than 28 million times worldwide.
One day, a girl falls from the sky in front of Deemo, a mysterious creature who plays the piano. Deemo then tries to return the girl to her original world by raising a tree that grows from the sound of the piano.
The game, which is based around the concept of the piano, has been a massive hit in Asia and other parts of the world due to the high quality of the original music, which is not bound by genre but draws from influences as diverse as classical, rock and jazz for its beautiful melodies, and the finely-tuned mechanics of the game allowing the player to feel like they are performing the melodies themselves. This much-talked-about work, which has made music game fans around the world roar, is now available in movie theatres in high-quality surround sound.
■ Film Production Team
Chief Director Junichi Fujisaki, director of "Ghost in the Shell: Stand Alone Complex (script)" and "BLOOD+ (director, series composition, direction, script)," and Shuhei Matsushita, an up-and-coming director.
Animation Production
SINGNAL.MD ("Napping Princess: The Story of the Unknown Me" and "CYBORG 009 CALL OF JUSTICE"), which continues to grow as one of Production I.G.'s leading "port" companies will be in charge of production, supported by Production I.G, a leading Japanese the animation studio is known for its "Ghost in the Shell" series.
Character Design
Illustrator Mebachi has made a splash with his work on "Mitsuboshi Colors" and " Revue Starlight," among others.
Theme Song/Image Song
Yuki Kajiura, the creator of music for such popular series as "Demon Slayer," "Sword Art Online," "Puella Magi Madoka Magica," and "Fate/Zero" will compose the theme music.
■ About XANA
NOBORDER.z has developed XANA as an NFT-based metaverse platform with blockchain infrastructure. We provide various products, services, and technologies so that users, companies, and IPs can freely perform multiple activities on the Metaverse. It is currently one of the world's most popular metaverse platforms, announcing amazing collaborations such as the Koto Heartfull Museum, which aims to promote the Tokyo Olympics and Paralympics, Milan Fashion Week in Italy, ULTRAMAN, Astro Boy x local government, and many more.
XANA has started an official LINE to receive the latest XANA news! Please click here to add a friend.
■ XANA Metaverse App(public alpha version)
■ About XANALIA
XANALIA is an NFT marketplace that has attracted global attention, ranking 8th in global trading volume in July 2021. It is ranked as the "No. 1 NFT Marketplace in Expectations" in Japan. It is developed by NOBORDER.z and operated by XANALIA Limited. It features (1) NFT, (2) linkage with the Metaverse, and (3) DeFi (decentralized finance) model, which is currently the fastest-growing area in the blockchain market, and The diluted potential market capitalization of XANALIA exceeded $1.4 billion (approximately ¥165 billion) within one month after its launch.
Together with Pony Canyon Planning Inc., Fujiland Inc., and Fuji Creative Corporation, the company is holding the "XANALIA NFTART AWARDS 2021" to discover and support creators from around the world.
From May 2022, the "CREATIVE X AWARD 2022 supported by Western Digital" is being held for creators specializing in action sports, together with ZETA Corporation, Fuel Media Corporation, and Dentsu Inc.
■ About NoBorderZ
NoborderZ is a next-generation entertainment technology company with a vision of "A World without borders" and operations in five countries worldwide, centered in New York, the USA, and Dubai. The company operates a business that fuses entertainment and technology, including a metaverse based on blockchain technology and an NFT platform.
■ Contact Information