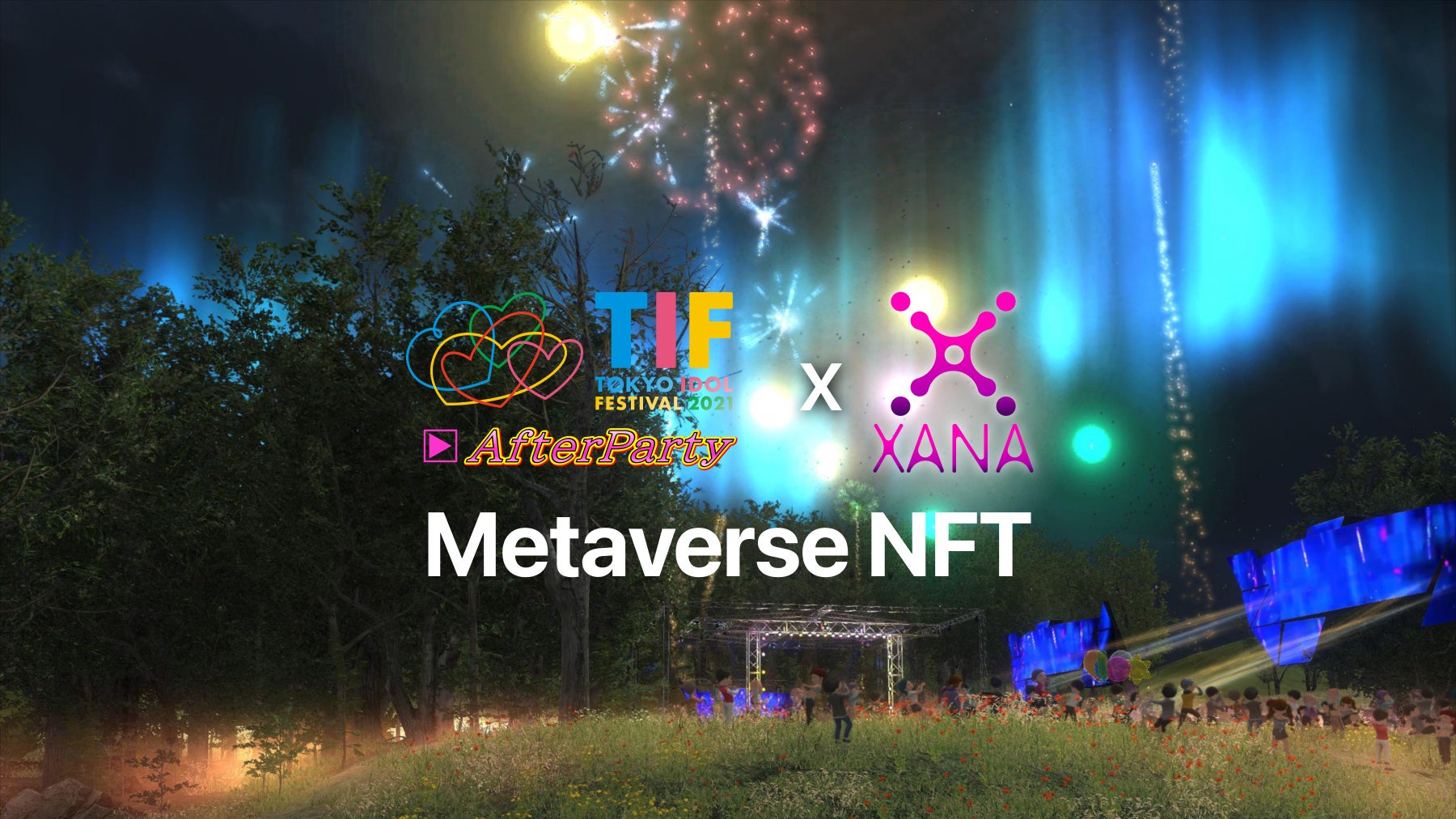 NOBORDER.z FZE CEO: RIO TAKESHI KUBO) will host a post-event of "TOKYO IDOL FESTIVAL2021 (TIF2021)" at the NFT marketplace "XANALIA" developed by the company. It has been decided to sell NFTs of each appearance idol, a particular product sale of "TIF2021 After Party" sponsored by Tokyu Real Estate Co., Ltd., IMAGICA EEX Co., Ltd., and Fuji Creative Corporation. This NFT will also be a VIP area admission ticket for the Metaverse version "TIF2021 After Party" held in the company's Metaverse space "XANA".
The most advanced NFT where you can meet your favorite idols in Metaverse "TIF2021 After Party" is an after-party event of TIF2021, which is the biggest idol festival in Japan held on October 2nd (Sat) and 3rd (Sun), 2021—screened on a giant screen. Furthermore, an idol will appear at the after-party event, and TIF's memory talk will be shown live.
Seven out of the eight participating idols sold as the raw photos taken on the day as NFT trading cards. The NFT is a special invitation ticket for the "TIF2021 Virtual After Party" to be held at the Metaverse "XANA" in mid-March, and purchasers can enter the "VIP area" of the party venue on the Metaverse space. Now you can meet the avatar of the idol who sold NFT Treka this time.
■ About NFT
This NFT will be released with an average of 25 patterns (174 patterns in total, 1740 sheets) for each of the seven idol groups. The breakdown is (1) 1649 basic cards, (2) 70 rare cards, and (3) 21 super rare cards, which are in a Gacha format where the contents are unknown until the package is opened. In addition, for rare cards that can only be won with a probability of 5% by the lottery after the fact, we will also prepare gifts such as "original individual message video from recommended men" and "special message video from all members" for individuals as a distinct privilege. If you own these NFTs, you can also use them as invitation tickets to enter the limited VIP area in the Metaverse.
■ About Metaverse "TIF2021 Virtual After Party"  
The Metaverse event was created with the image of a resort house party so that anyone, not just purchasers, can visit it. Among them, only NFT purchasers can meet avatars, listen to original voices, and take selfies together, enabling virtual communication. The event is scheduled for mid-March, and details will be announced later through XANA, the official Twitter of the after-party, and the SNS of each performer.
■ About XANA Metaverse
NFT-based Metaverse platform and blockchain infrastructure developed by NOBORDER.z. We provide various products, services, and technologies so that users, companies, and IPs can freely perform multiple activities on the Metaverse. One of the hottest metaverse platforms in the world today, announcing various collaborations such as the Tokyo Olympics, the Koto Heartful Museum aimed at enlivening the Paralympics, Milan Fashion Week in Italy, ULTRAMAN and Tetsuwan Atom x Local Government.

■ About XANALIA
XANALIA is an NFT marketplace attracting worldwide attention, having won 8th place in the global trading volume ranking in July 2021 and the "1st place in the expected NFT marketplace" in Japan. Developed by NOBORDER.z and operated by XANALIA Limited. It features (1) NFT, (2) interlocking with Metaverse, and (3) DeFi (decentralized finance) model, which are currently the fastest-growing fields in the blockchain market, and has a latent market capitalization of 1.4 billion dollars (about 165 billion yen) after dilution in one month after launch. Beyond.
Currently, "XANALIA NFTART AWARDS 2021" is being held with Pony Canyon Planning Co., Ltd., Fuji Land Co., Ltd., and Fuji Creative Corporation Co., Ltd. to support the discovery of creators around the world.

■ NFT Trading Card Sales Idol (in alphabetical order)
● Appare!
Like "Harajuku", which incorporates KAWAII from all over the world and creates its own culture, it was formed with the concept of creating a "heavenly sunny!" KAWAII culture and transmitting it to the world. July 2020 Renamed from [Tensei! Harajuku] to [Appare!].

● Up Up Girls (provisional)
An eight-member group with seven new members was added to Azusa Sekine's original member. Mt. Fuji lives, 2-hour NONSTOP live, 47 prefecture tours, etc., continue to move up to overcome the unprecedented legend of the idol world of seniors. The new system's first mini-album, "Apgayabai", performed extreme live concerts such as blast live concerts and live sauna concerts, comparable to their seniors.

● Osaka ☆ Spring Summer Autumn Winter
A 5-member dance and vocal group living in Osaka. Active nationwide focuses on live performances with exquisite chorus work and dance centred on lead vocal MAINA.

● Task have Fun
A powerful live performance that cannot be imagined from the appearance becomes a hot topic. In July 2020, a live broadcast without an audience will be held at Saitama Super Arena. From March 11, 2022, we will go on a national tour to commemorate the 6th anniversary of the formation of ~ Task Ai.

● Peel the Apple
An idol group formed by eight finalists of the new member audition of the popular group "26 o'clock masquerade" held for about half a year in July 2020.

● Pretty Ash
An artist unit with the music concept of "PUNK & ROCK" was selected by a selection vote from the world's largest idol training entertainment cafe "AKIHABARA backstage pass" in Akihabara, Tokyo.
● Rirunede
A 3-member idol unit was selected from the "Dempagumi Nijikon Jr. Member Recruitment Audition". Active under the concept of "Oshakawa in the 2020s". The producer is Nonoka Okumura, a former Niji no Conquistador. The choreography is by Karin Matoba of Niji no Conquistador, the costume design is by Dempagumi.inc, and Nagi Nemoto of Niji no Conquistador is in charge.

■ Sponsored by "TIF2021 After Party"
Tokyu Land Corporation
A comprehensive developer that is the core company of Tokyu Land Holdings Co., Ltd. Promoted the development and operation of "Tokyo Portcity Takeshiba" where the actual event of "TIF2021 After Party" was held. The venue, "Tokyo Portcity Takeshiba Port Hall," is permanently equipped with video equipment consisting of two 400-inch wide screens and a 4K-compatible 20,000lm projector. It is an event hall that can respond to various event demands.

IMAGICA EEX Co., Ltd.
Since its establishment in 1935, IMAGICA GROUP has continued to take on the challenge of creating new "video" value and will continue to aim to be a "video communication group that gives" surprise and excitement "to people around the world." Responsible for business planning, strategic investment, technology and IP development. With the mission of "expanding the experience and creating the future," we will create new entertainment experience opportunities that have never been seen before in the new world view "New Normal" and develop affluent lifestyles and culture. Aim to contribute to.

Fuji Creative Corporation
As a core company of Fuji Media Holdings, we are responsible for all developments related to the content, such as the production of videos and events, sales of programs and formats in Japan and overseas, and rights processing. At the annual TOKYO IDOL FESTIVAL, we manage and direct the sponsor TOKYO IDOL PROJECT.

■ Introduction of "TIF2021 After Party"
The live video of TIF2021 recorded in super high quality 8K video will be screened on a giant screen of 5m x 18m, and you can relive the excitement of TIF with the power of the live!
In addition, the members themselves will talk about TIF's memories and behind-the-scenes stories at the venue, and it will be exciting even in real live! After the fact, archive distribution was carried out, and it was carried out as part of a project aiming to expand actual events to various developments together with NFT trading card sales.
Title: "TIF2021 After Party"
Performance date: February 20, 2022 (Sun)
Venue: Tokyo Portcity Takeshiba Port Hall
(1-7-1 Tokyo Portcity Takeshiba Office Tower 1st floor)
Official website https://www.portcity- hall.tokyo/
Special archive delivery: From 0:00 on February 25, 2022 (Friday) to 23:59 on March 6 (Sunday),
Delivery tickets will be sold at Rakuten Ticket (1,100 yen including tax for each part)
■ Appearance group (in order of appearance):
Part 1:
Pretty Ash
Peel the Apple
Osaka ☆ Spring Summer Autumn Winter
Task have Fun
Part 2:
Rirunede
Up Up Girls (Tentative) (* TIF video only, Up Up Girls (2))
Appare!
Devil ANTHEM.
* There is no NFT trading card sale for Devil ANTHEM. This time.
■ Organizer: * Co-sponsored by 3 companies
Tokyu Land Corporation

IMAGICA EEX Co., Ltd.
| | |
| --- | --- |
| site | https://eex.co.jp/ |
| location | [Headquarters] 1-14-2 Kaigan, Minato-ku, Tokyo 105-0022 |
| CEO and CCO | Haruyuki Moroishi |
Fuji Creative Corporation
| | |
| --- | --- |
| Planning cooperation | TOKYO IDOL PROJECT |

■ About NOBORDER.z
A next-generation entertainment technology company with a vision of "a world without borders" and expanding its business in five countries around the world, located in New York and Dubai. It is a business that integrates entertainment and technology such as Metaverse based on blockchain technology and the NFT platform.
■ XANA Link

■ Corporate information
| | |
| --- | --- |
| Company Name | NOBORDER.z FZE |
| location | Business Center,  AI Smooch Building, UAQ Free Trade Zone, Umm AI Quwain, UAE. |
| Business content | Development of blockchain technology, VR, XR, AI, NFT and operation of service |
| Representative | Rio Takeshi Kubo |
| Corporate site | https://www.noborderz.com/ |
| Representative Twitter | https://twitter.com/rio_noborderz |
■ Contact information