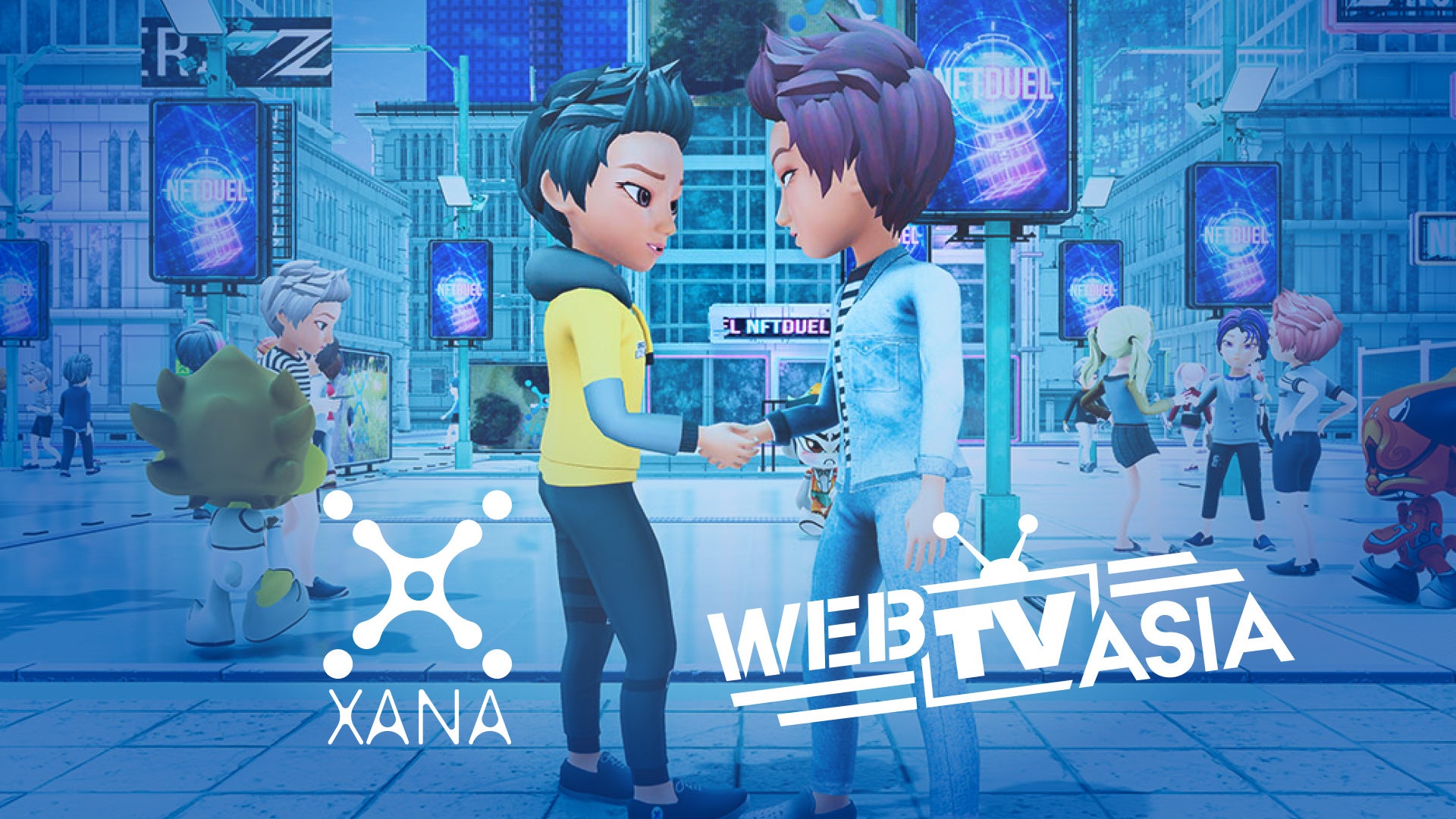 WEBTVASIA SDN.BHD (General Manager: Zhang Wenze), GALAXY FLAME LTD. (CEO: Wang Tianyong), the two companies have entered into a business partnership agreement with NOBORDER.z FZE (CEO: RIO TAKESHI KUBO), to produce metaverse content from WebTVAsia's more than 3,000 famous YouTube creators, publish NFTs, and provide influencer services utilizing the metaverse for companies throughout Asia.
WebTVAsia is one of the fastest-growing and largest digital entertainment companies in Asia.
Asia's largest YouTube company with over 3,600 top creators, 6.5 billion monthly traffic, over 772 million channel subscribers, and He is committed to advancing the creative economy across Asia.
Top YouTubers on WebTVAsia Contracts
| | | |
| --- | --- | --- |
| No: Of Followers | Title | No: of persons |
| More than 10 million | Diamond playback button | 4 |
| More than 1 million people | Gold Playback button | 177 |
| More than 100,000 people | Silver playback button | 1024 |
XANA, on the other hand, has been working with famous anime and manga content, such as the world-famous ULTRAMAN and Astro Boy, as well as local governments, and the government of the United States. Fuji Sankei Group, J&J, a joint venture between JTB and JCB, and many other companies and brands. Just before the launch, a worldwide community of more than 150,000 followers has already formed on SNS, making it one of the world's hottest metaverse platforms as a blockchain infrastructure.
WebTVAsia and XANA have teamed up to allow creators to create their own virtual worlds, hold various events within those worlds, and create their own "worlds". They will provide a metaverse platform to users for developing NFTs, creating a new live experience, set a new way to communicate with the world. It will focus on further deepening the connection between creators and fans.
NFTs will be sold from time to time on XANALIA, an NFT marketplace owned by XANA Metaverse.

■ Message from Mr Zhang Wenze, (General Manager of WebTVAsia China)
The Metaverse has the most significant potential as a stage for the next generation of the entertainment industry. WebTVAsia, which has the largest MCN platform in Asia, is pleased to announce its partnership with XANA, which has the highest creativity and potential of all the metaverse. We will create revolutionary entertainment for the Web 3.0 era and collaborate to enable people to truly immerse themselves in the new entertainment delights that the Metaverse will offer.
■ Message from RIO TAKESHI KUBO, Founder of XANA
Thank you for this honorable partnership. We are very honored to partner with the best creators of 2D content today, the top YouTubers from Asia. The challenge of creating new 3D content together with our metaverse technology is stimulating. As a DJ myself, I can say that it is not often that I get to experience such a great mix. We will do our best to create a platform and content that will be even more exciting for YouTubers and their fans about XANA
XANA is an NFT-based Metaverse platform and blockchain infrastructure developed by NOBORDER.z. We provide various products, services, and technologies so that users, companies, and IPs can freely perform multiple activities on the Metaverse. XANA is one of the hottest metaverse platforms in the world today, announcing various collaborations such as the Tokyo Olympics, the Koto Heartful Museum aimed at enlivening the Paralympics, Milan Fashion Week in Italy, ULTRAMAN, Astro Boy x local government, and many others.
■ About XANA
A metaverse platform and blockchain infrastructure based on NFT, developed by NOBORDER.z.The company provides a variety of products, services, and technologies that allow users, companies, and IPs to freely conduct various activities on the metaverse.It is currently one of the most popular metaverse platforms in the world, and has announced various collaborations such as the Koto Heartful Museum, which aims to promote the Tokyo Olympics and Paralympics, Milan Fashion Week in Italy, ULTRAMAN and Astro Boy x local governments.
■ About XANALIA
XANALIA, developed by NOBORDER.z and operated by XANALIA Limited, is an NFT marketplace attracting global attention. The marketplace has secured 8th rank in the worldwide trading volume ranking and 1st in the expected NFT marketplace in Japan in July. The key features of XANALIA are:1. NFT, 2. Linkage with the metaverse. 3. The DeFi (decentralized finance) model is currently the fastest-growing area in the blockchain market. Its diluted potential market capitalisation exceeded $1.4 billion (about 165 billion yen) just one month after its launch. Together with Pony Canyon Planning, IncFuji Land, Inc. and Fuji Creative Corporation are holding the "XANALIA NFTART AWARDS 2021" to promote and encourage creators globally.
■ About NOBORDER.z
NOBORDER.Z is a next-generation entertainment technology company with operations in five countries worldwide, centered in New York, USA and Dubai. With the vision of "Wonderful World with NO Borders," the company is developing the NFT metaverse "XANA" and the NFT platform "XANALIA" based on blockchain technology for the global NFT market and also NFT game "NFTDUEL" and other businesses that integrate technology and entertainment.
| | |
| --- | --- |
| Company Name | NOBORDER.z FZE |
| Location | Business Center,  AI Smooch Building, UAQ Free Trade Zone, Umm AI Quwain, UAE. |
| Business | Development of blockchain technology, VR, XR, AI, NFT and operation of service |
| CEO | Rio Takeshi Kubo |
| Website | https://www.noborderz.com/ |
| Twitter | https://twitter.com/rio_noborderz |

■ Contact us