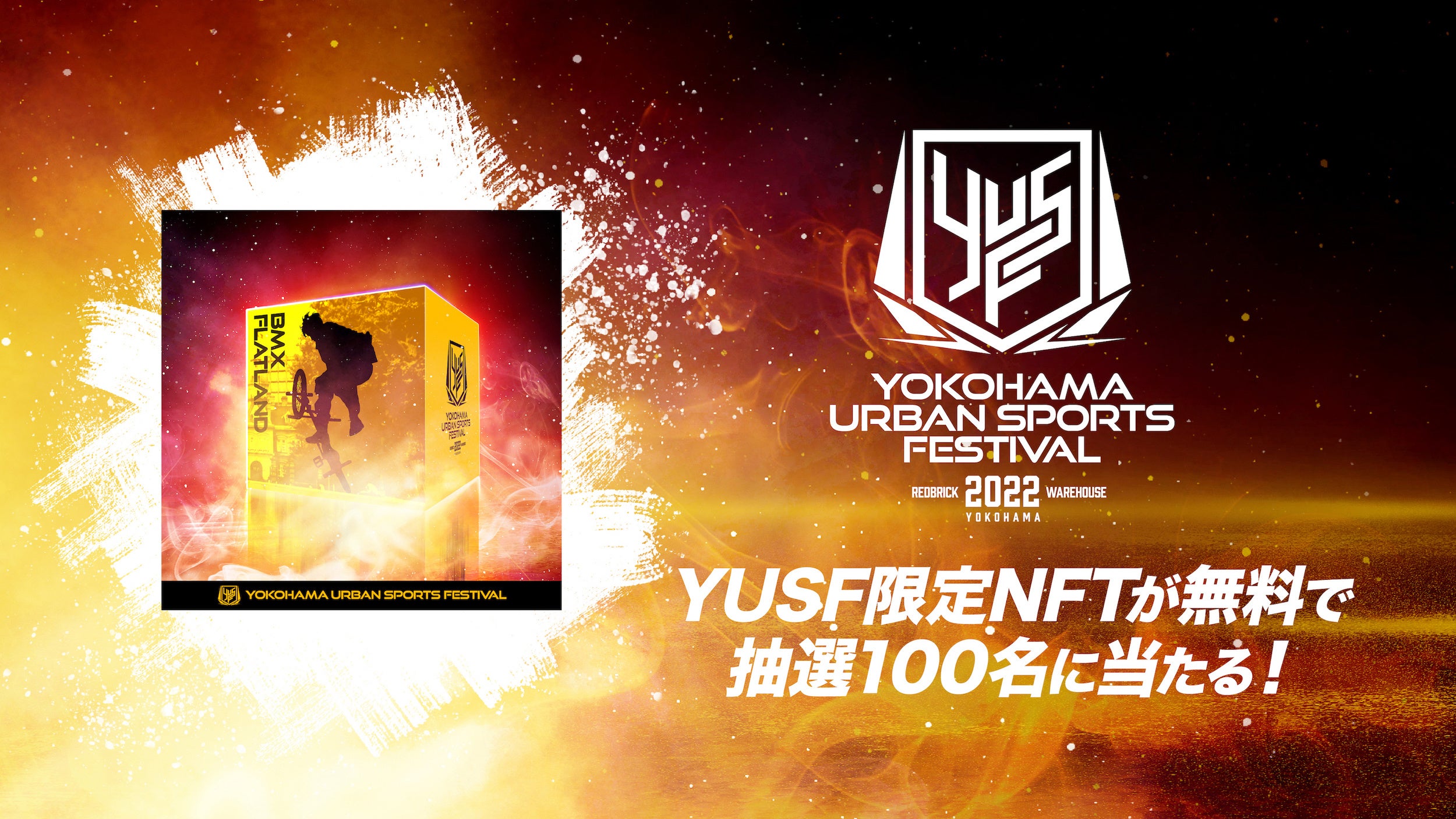 NOBORDER.z FZE (CEO: RIO TAKESHI KUBO), the blockchain company developing the XANA metaverse, is pleased to announce that it is launching a campaign for YOKOHAMA URBAN SPORTS FESTIVAL 2022 NFTs. This campaign is to commemorate the inaugural by offering 100 lucky applicants the chance to win a limited-edition special NFT that captures the best scenes and superb skills of Japan's top athletes, including medalists from X Games Chiba 2022 and the Tokyo Olympics.
▶ 「YOKOHAMA URBAN SPORTS FESTIVAL 2022」Official site NFT page  https://yusf.jp/nft/
NFT," which has been called a "revolution in digital content" worldwide recently, has made it possible to distribute and add new value to digital content by using blockchain technology .NFT has enabled the distribution of digital content and the creation of new value by providing "proof of ownership" and "uniqueness = proof of authenticity," and the market is expanding worldwide, particularly in the fields of art, sports, and games.
By creating digital novelties utilizing the NFT, we will try a new service called NFT novelties with the cooperation of various athletic organizations and athletes. The aim of this initiative is to propose opportunities for fans, including visitors, to enjoy new ways to enjoy the NFT, expand recognition of athletes and various sports, increase engagement with fans, and provide opportunities for fans who have never experienced the NFT to experience it.
■ Campaign Details
Application period: Thursday, May 26, 2022 to Sunday, June 12, 2022
Notification of winners: Late July 2022 (tentative) winners will be notified by e-mail
How to apply : Please use the following URL
https://sweepwidget.com/view/53663-94kyb6nz
■ MAIN CONTENTS   
Skateboarding
Japan is now at the top level of the skateboard competition scene in the world.
The best skaters in Japan, both for Mens and Womens, will be competing here in Yokohama with their best skills and "best tricks".
BMX FLATLAND
This year marks the 10th year of the FLAT ARK BMX FLATLAND World Championships!
This year's FLAT ARK is a special edition where Japan's top riders will compete in a heated battle in Yokohama.Who will be the true champion in Japan, which has many riders who are active in the world?
Breakin
A domestic competition of "Freestyle Session," a breakin' battle that started in the U.S. in 1997, will be held.The world-class BBOYs and BGIRLs gather to compete in high-level battles.
DOUBLE DUTCH
DOUBLE DUTCH ONE'S FINAL 2022 [Jumper vs Jumper].The elite players who have won the annual qualifying rounds will compete in a 1-on-1 battle to determine the best in Japan.
Parkour
For the first time in Japan, a parkour match will be held in a battle format where participants will show their 10-second flows to each other one-on-one to determine the winner.Visitors will be able to see the power of parkour up close and vivid.
Kids Chase Tag
This is the ultimate tag sport, a competitive version of "play" that anyone can play, regardless of their expertise in the sport.Two players compete to see who can escape or be caught within a 20-second time limit.
■ What is URBAN SPORTS
Urban sports is a generic term for urban sports such as skateboarding, BMX, breaking, and parkour.It is not only a sport, but is closely connected with street culture such as music, fashion, and art.Skateboarding and BMX will become a major movement in 2021, and with the success of a Japanese skateboarder who won a gold medal in skateboarding, their popularity is increasing.With the background that the younger generation in Japan in particular is emerging and leading the world, we are holding this festival with the support of the Yokohama Civic Affairs Bureau to introduce these athletes and culture to the world from Yokohama.
■ Outline of the event
Event Name:YOKOHAMA URBAN SPORTS FESTIVAL 2022 (Abb:YUSF)
Place:Yokohama Red Brick Warehouse Event Plaza, Akarenga Park (Address: 1-1 Shinko, Naka-ku, Yokohama City, Kanagawa Prefecture)
Date of the Event:Sat, June 4 and Sun, June 5, 2022
Addmission fee:free
Organizer:YOKOHAMA URBAN SPORTS FESTIVAL 2022 Executive Commitee
Sponsors:GoPro / Rokko Butter Corporation / FIJI Water / Manhattan Portage / ChargeSPOT / KIBACOWORKS / BRIEFING / Casio Computer Co./ JOYSOUND
Associate Sponsors:General Incorporated Association ARK LEAGUE / OVER THUMPZ / I AM Corporation / PKM Corporation / FINEPLAY / BEAMS SPORTS / Fanatics Japan G.K. / XANA
Supported by: Yokohama City Citizens Bureau / J-WAVE 81.3FM
Planning and Production: Yokohama Red Brick Co./ Shibuya Television Corporation / LAWSON ENTERTAINMENT, INC./Nomura Kogeisha Co/ Green Room Co. /ZETA Corporation
关于XANA
NOBORDER.z已经开发了XANA,作为一个基于NFT的元空间平台,拥有区块链基础设施。我们提供各种产品、服务和技术,使用户、公司和IP可以自由地在Metaverse上进行多种活动。它是目前世界上最受欢迎的元空间平台之一,宣布了惊人的合作,如旨在促进东京奥运会和残奥会的Koto Heartfull博物馆、意大利米兰时装周、ULTRAMAN、Astro Boy x地方政府等等。
■ XANA Metaverse App(public alpha version)

■ 关于XANALIA
XANALIA是一个引起全球关注的NFT市场,2021年7月全球交易量排名第八,日本 "NFT市场期望值第一",由NOBORDER.z开发,由XANALIA有限公司运营。它的特点是(1)NFT,(2)与Metaverse联动,(3)DeFi(去中心化金融)模式,这些都是目前区块链市场发展最快的领域,其稀释后的潜在市值在推出后一个月内就超过了$1.4亿(约1650亿日元)。
该公司与Pony Canyon Planning Inc.、Fujiland Inc.和Fuji Creative Corporation一起举办 "2021年XANALIA NFTART AWARDS",以发现和支持世界各地的创作者。
From May 2022, the "CREATIVE X AWARD 2022 supported by Western Digital" is being held for creators specializing in action sports, together with ZETA Corporation, Fuel Media Corporation, and Dentsu Inc.
关于NoBorderZ
NoborderZ是一家下一代娱乐技术公司,其愿景是 "一个没有边界的世界",业务遍及全球五个国家,以美国纽约和迪拜为中心。该公司经营的业务融合了娱乐和技术,包括基于区块链技术的元数据和NFT平台。
■ 联系信息