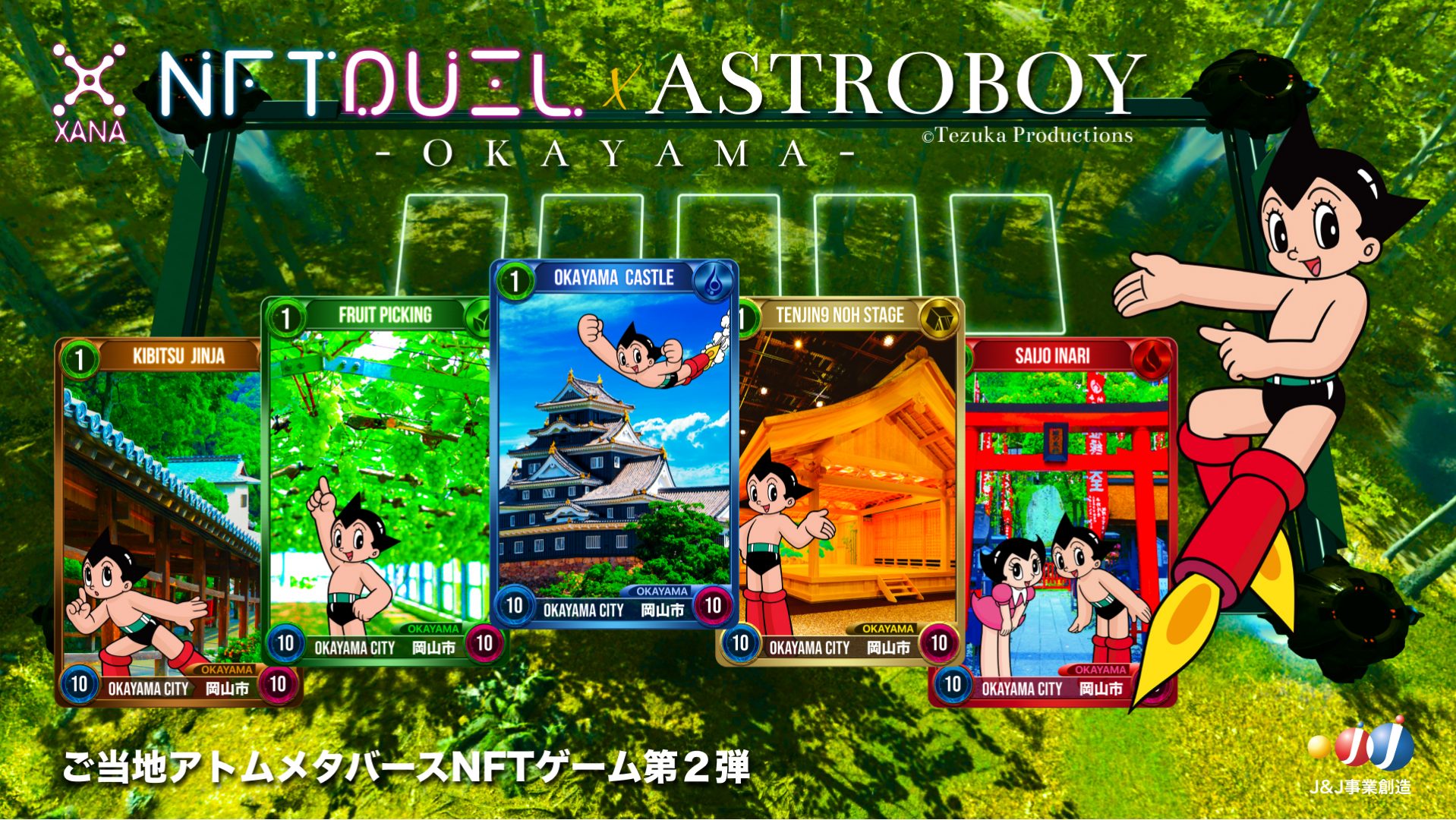 NOBORDER.z FZE (NOBORDER.z, CEO: RIO TAKESHI KUBO / hereinafter referred to as "NOBORDER.z"), Tezuka Productions, Inc. (President: Takayuki Matsutani / hereinafter referred to as "Tezuka Productions"), and J&J Business Creation, a joint venture between JTB Corporation and JCB Co. (President: Masami Suzuki; hereafter "J&J Business Creation"), have announced the launch of a series of NFT game cards with the theme of regional development in tie-up with Okayama city, that can be used in XANALIA, an NFT marketplace for the NOBORDER.z metaverse, and NFTDUEL, an NFT game in the XANA metaverse.
This NFT project brings together Tezuka Productions' worldwide influence in manga and anime content, J&J Business Creation's know-how in the regional revitalization and network with local governments, and NOBORDER.z's NFT blockchain technology and its Metaverse technology. By combining these three elements, the project aims to recover and support local economies and the domestic tourism market, which were severely damaged by the Corona disaster, and to launch the "Local Atom NFT", which can be used in NFT games in the Metaverse, to the global market.
These three companies have collaborated with each of Japan's "localities" to create a collaboration with each of Japan's "local" characters, Astro Boy, who is known worldwide, and have converted them into NFT game cards that can be used in the NFT trading card game "NFTDuel" linked to the "XANA" metaverse.These cards will be distributed and sold worldwide. The users can purchase NFTs filled with the charm and culture of each region of Japan as their own assets, play with them, create new cards by combining them with each other, and monetize them by trading them.
This project will take an unprecedented and innovative approach to create new IP that is uniquely Japanese, and will help to redefine and rediscover the charms of various regions of Japan, both domestically and internationally, while promoting an increase in demand for after-corona inbound tourism by having new audiences in Japan and abroad enjoy and rediscover the charms of various regions of Japan, while at the same time donating a portion of the sales to revitalize local communities through the promotion of tourism.
■ Our second area of collaboration: Okayama City.
A tie-up with "Okayama City" has been decided as the second local collaboration in Japan.
Okayama City is famous for the legend of Momotaro, which is well known to all Japanese, Kibi Dango (dumplings), and Saidaiji Kaiyo (naked festival). On the 3rd of this month, Okayama Castle was reopened with its jet-black walls recreated for the first time since it was rebuilt in 1966. The festival will combine the history, culture, and leisure activities of Okayama City with seasonal fruits and other gourmet foods such as the "Kingdom of Fruits," as well as new technology to appeal to a wide range of visitors in Japan and abroad.
关于XANA
NOBORDER.z已经开发了XANA,作为一个基于NFT的元空间平台,拥有区块链基础设施。我们提供各种产品、服务和技术,使用户、公司和IP可以自由地在Metaverse上进行多种活动。它是目前世界上最受欢迎的元空间平台之一,宣布了惊人的合作,如旨在促进东京奥运会和残奥会的Koto Heartfull博物馆、意大利米兰时装周、ULTRAMAN、Astro Boy x地方政府等等。
XANA has started an official LINE to receive the latest information! Click here to add a friend.
■ About Tezuka Productions
Tezuka Productions was established in 1968 by Osamu Tezuka himself as a manga and animation production company. It has produced many masterpieces that have left their mark on the history of manga and animation around the world, including "Astro Boy," "The Bird of Fire," and "Black Jack. In addition to copyright management and animation production of Tezuka's works, the company currently manages the Osamu Tezuka Memorial Museum in Takarazuka City, Hyogo Prefecture.
● Tezuka Production Site: https://tezuka.co.jp
■ About J&J Business Creation Inc
JTB Corporation and JCB Corporation jointly established a joint venture business development company.
It is engaged in cutting-edge business development, including planning, development, and promotion utilizing the management resources of the two companies.
● J&J Group Site: https://www.jj-group.jp
关于NoBorderZ
NoborderZ is a next-generation entertainment technology company with a vision of "Wonderful World with No Borders" and operations in five countries worldwide, with its operational centers in New York (USA) and Dubai. The company operates a business that fuses entertainment and technology, including a metaverse based on blockchain technology and an NFT platform.
■ 联系信息